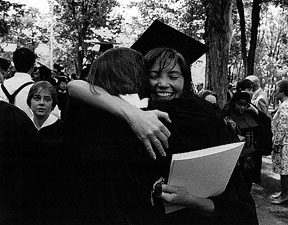 The Pride of Bates Graduates
This spring, another 383 graduates joined the ranks of Bates alumni.
A Last Look Back
Graduating seniors share some final reflections.

Honorary Degree Recipients
A list of Recipients of honorary degrees at this year's Commencement, including text of the honorary degree citations.
The Reunion Way-Back Machine
Waves of nostalgia kept alumni at Reunion 1996 pleasantly off balance.
Reunion Roundup
More happenings from Reunion 1996.

Muskie Memories
A gathering at Reunion remembers the late Ed Muskie '36.

Remembering the Holocaust with Judith Magyar Isaacson '65
A capacity crowd filled Carnegie to hear a moving lecture by Bates alumna and Holocaust survivor Judith Magyar Isaacson.

The Moon, the Mirror, and D-Day
Bates' Gene Clough brought Reunion-goers a multimedia planetarium presentation on the historic invasion of Europe.

When I Was at Bates...
Returning alumni remember their Bates days.
Let's Be Enemies, Let's Be Friends
Over Short Term, a Bates class trekked to Cuba for the first time ever, and came away wondering what all the fuss is about.
"We're Going to Have Trouble with That Little..."
Retired track coach Walt Slovenski left 'em howling at his retirement dinner last April. We bring you his accounts of some of his hilarious past adventures.