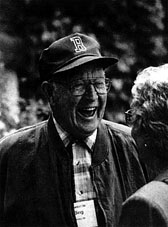 Above: William "Bing" Crosby '39 talks with Helen Papaioanou '49. Below: Christy Ballantyne '97 (left) was a Batesstar host for the Class of '66, which included her mother, Carol Brown Ballantyne.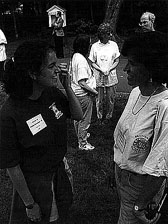 Reunion is like time traveling back to student days. So much of this evocative campus, like a song, remains the same. Robert Shepherd '69 of Atkinson, New Hampshire, had it right when he said, "When I come back to Bates and see a student, I think for a second, `I should know that person,' and when I look in the mirror I think, `I should look like that student.'"

Shepherd, who was attending Reunion 1996 with his wife, Alice Grant Shepherd '71, celebrating her 25th, joined around one thousand Bates alumni back on campus.

Then there are other times, when the nostalgic reverie is broken by the sight of new buildings or the discussion of new programs at the College. This isn't your father's Oldsmobile after all.

The Bates roots of Stella Clifford Gray '41 extend deep into the College's history. Her father and mother were members of the Class of 1916. On an early-Saturday walk around the Quad with her husband, she shook her head at her weekend accommodations. "We're living in the Village at the end of the football field, which is just lovely -- especially compared to what it was like back in the dorms when I was here! And when I was here, when we went swimming we had to go to the `Y' in Auburn. So I love the Bates pool!"

As in past years, alumni were greeted by an array of activities and events that evoked the old and educated about the new, from daytime panel discussions (for example, on the admissions process, the Holocaust, and the career of the late U.S. Senator Edmund S. Muskie '36) to athletic events, the evening dessert fair, barbecues, class banquets, and live entertainment.

One of the Reunion highlights again was Saturday's colorful and festive Alumni Parade, with the best costume award going to the "Still Hot" Class of '65 and their fire-engine theme. Following the parade, alumni came together for the Reunion Awards Ceremony and Luncheon, which celebrated Reunion achievement -- including the classes' fund-raising successes -- and the generous and optimistic spirit of Bates College alumni.

On Sunday of Reunion weekend, the traditional memorial service offered an opportunity to honor the memory of the 129 Bates alumni and friends of the College who died during the previous year. The service included the singing of the College Hymn, O God, Beneath Thy Guiding Hand.
---
Reported by H. Jay Burns, Rick Denison, Phyllis Graber Jensen, and Patti Lawson.