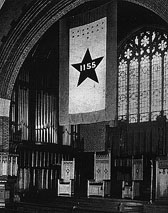 Above: For the duration of World War II, a flag hung in the Chapel to honor those who were serving -- and giving their lives -- in the war.
The sky fades to charcoal gray. A full moon and stars appear. And a voice in the dark speaks.

"This is the sky as it appeared in Western Europe at mid-evening on June 5, 1944, the night before the Allied invasion of Normandy that led to victory over Nazi Germany," the voice says. "This is the night before D-Day."

The place is the planetarium in Carnegie Science Hall, the time is Reunion 1996, and the speaker is Gene Clough, a member of the College's information services staff. For the past three years Clough has entertained and informed the 50th Reunion classes with a presentation on the astronomical factors that influenced planning and execution of the D-Day invasion.

His half-hour show, projected on the planetarium dome, includes images from the Reunion classes' yearbooks and a tribute to Bates people who served in the armed forces during World War II.

"The idea grew from the Class of 1944 two years ago, who pointed out that their 50th Reunion would take place fifty years, almost to the day, after D-Day," Clough said. "Articles in Sky & Telescope magazine provided much of the technical information, as well as pertinent quotes from such people as Winston Churchill, Omar Bradley, and Bernard Montgomery."

It was a simple matter to program the planetarium's Spitz projector to duplicate the full-moon sky as it appeared to the invasion forces, German defenders, and French civilians on that fateful night.

The reaction from Bates alumni and spouses who have seen the show is uniformly positive. They appreciate the scientific information Clough imparts -- for instance, his explanation of how tide tables played a key role in demolition teams' efforts to blow holes in the Germans' underwater barrier system. But what they linger over and comment on are the Mirror yearbook pictures of Bates men and women in uniform and of the flag that hung in the Chapel for the duration, enumerating the number of Bates people in the service and carrying the gold stars symbolizing those who had given their lives.

Clough plans to repeat the D-Day show at least once more, during the 1997 Reunion. After that, the fifty-year classes will not have entered Bates at the time of the invasion.

"I think we'll still do a show," Clough said. "We'll just have to find a new topic."