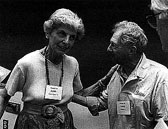 Above: Judith Magyar Isaacson '36 with husband Irving '36.
An overflow crowd gathered on Saturday in Kresge Auditorium of Carnegie Science Hall to listen as Judith Magyar Isaacson '65 read from her much-acclaimed autobiographical work, Seed of Sarah (1990), as well as from a memoir-in-progress, also concerned with her experiences as a Holocaust survivor. Isaacson, in the company of her husband, Irving Isaacson '36, and her mother, Rose Vágó Magyar, shared personal experiences and discussed her work in Holocaust education. The session constituted the first treatment of the Holocaust tailored for a Bates alumni audience, according to moderator and participant Steve Hochstadt, professor of history, who teaches a Holocaust course at the College (see Bates Magazine, summer 1996).

In response to her mother's presence, Isaacson read a selection from Seed of Sarah that described her 1944 arrival at Auschwitz as a nineteen-year-old with her mother, her grandmothers, and her aunts. Both grandmothers and one of her aunts perished in Auschwitz; only her mother's quick-thinking lie about her age saved her from a similar fate.

Isaacson followed with a narrative about a postwar return to her hometown of Kaposvár, Hungary, with her grown daughter, Ilona. The 1977 journey placed the two women on a train, side by side with a conductor who had transported Jews from Kaposvár to Auschwitz. Isaacson explored the larger question of forgiveness in the context of the remorseful man's request for exoneration. It is a story she tells often.

Her frequent and loving references to her husband, "Ike," an American Army captain she met upon her 1945 liberation in Leipzig, Germany, delighted those present, as did a variety of comments made by her mother. Isaacson spoke with and autographed books for the many individuals who approached her at the session's end, including a younger alumna whose aunt had been at Auschwitz with Isaacson.