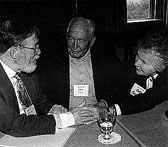 Above: Don Nicoll, Lawrence Butler '36, and Elizabeth Scott '36 share thoughts following the panel discussion on the late Ed Muskie '36's career.
Quite literally, Ed Muskie '36's presence hung over the crowded, second-floor room in Muskie Archives, where about a hundred alumni gathered on Saturday morning to hear a panel discussion on the late senator and secretary of state's political career.

On the wall behind the four panelists hung Muskie's framed portrait, his stern face seeming to demand a thoughtful and reasoned discussion in the Ed Muskie tradition.

And that's what it was. The panelists included Muskie's classmates and longtime friends Lawrence Butler '36 and Elizabeth Scott '36; journalist, former Muskie aide, and confidante Donald Nicoll; and Robert Nelson '56, who served as deputy campaign manager of Muskie's presidential bid in 1972. Jim Carignan '61, dean of the College, moderated the discussion.

In defining Muskie's political persona, Nicoll pointed to what today would be considered a fault: Muskie's refusal to offer sound-bite answers to complex issues. "His one failing -- which in my book is a compliment, though it was costly to him -- was his inability or unwillingness to master the sound bite," Nicoll said. Later in the discussion, a comment came from the audience suggesting that Muskie's inability to offer quick answers was evidence that he waffled on issues. Absolutely not, said Nicoll: "Muskie had strong opinions. But before sharing his ideas with the public, he would rigorously test them, engaging in self-examination and dialogue with others. Often, he would let the U.S. people in on this debate. And for people looking for the easy answer, this hard discussion looked like he was vacillating. He didn't vacillate; on the contrary, he let it all hang out."

In closing, Carignan offered this: "Ed Muskie was more interested in getting at the heart of an issue than reading polls. He would always ask you, `What are you reading? What are you thinking?' To that discussion, he would then attach action."