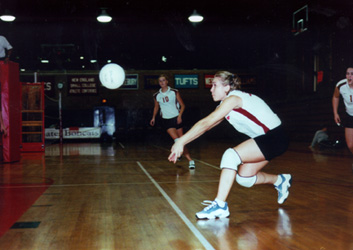 Following an NCAA tournament appearance and a second-place finish in the NESCAC, the Bates College volleyball team enters the 2001 season eager to pick up where they left off in 2000. The Bobcats put together a 31-9 record, reaching the NCAA New England regional finals after grabbing one of seven at-large berths in the tournament. Their Sweet 16 performance matched Bates' first NCAA tournament team from 1993. Their 30-win season was the team's second in a row and ninth overall. With a solid core of talented returnees and a talented crop of newcomers, the Bobcats are looking for their first back-to-back NCAA tournament appearances.
Leading the returnees is senior co-captain Lauren Fennessey (Joplin, Mo.). An outside hitter, Fennessey was a second-team All-NESCAC performer and an AVCA All-New England pick. She also earned NESCAC Defensive Player of the Year honors. Junior Katie Burke (Canton, Mass.), a defensive specialist, will serve as her co-captain. Sophomore outside hitter Liz Wanless (Belleville, Ill.) was the second straight Bobcat to lead the NESCAC in kills, averaging 4.15 kills per game. Wanless earned NESCAC and AVCA New England Rookie of the Year honors. Seniors Lisa Dulude (Wellesley, Mass.) and Sarah Linehan (Stone Ridge, N.Y.) will anchor Bates' middle. Dulude adds a solid block and a consistent attack from the middle, while Linehan is a skilled all-around player who brings intensity to the front row.
With the opportunity to have four courts in Alumni Gymnasium and the Clifton Daggett Gray Athletic Building in use simultaneously, Bates offers one of the finest Division III volleyball facilities in New England. The Davis Fitness Center, available to the team for year-round training, has free weights, selectorized machines and cardiovascular equipment available.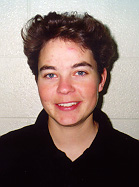 Jennifer Bowman (jbowman@bates.edu) came to Bates after two seasons at Frostburg (Md.) State University. Bowman led Frostburg to a 72-9 record and two postseason appearances. In her first season, the Bobcats went 36-4, winning the Allegheny Mountain Collegiate Conference (AMCC) and placing second in the ECAC Division III South volleyball championships. In 1999, She led FSU to another AMCC conference title with a 36-5 record, earning the schoolÕs first berth in the NCAA Division III championships. For her efforts, Bowman was named NCAA Mid-Atlantic Region Coach of the Year. She graduated from Salisbury State University in 1996, where she was a three-year captain and two-time All-Region selection as a setter and outside hitter. She is the Sea Gulls' all-time leader in service aces and second on the all-time assist list.

---


©2001 Bates College.
All Rights Reserved.
Last modified: 6/21/01 by asl