Sept. 24, 2001

Contact: Adam Levin
Phone: (207) 786-6411
FOR IMMEDIATE RELEASE
FENNESSEY NAMED NESCAC PLAYER OF THE WEEK
LEWISTON, Maine — Bates College senior outside hitter Lauren Fennessey of Joplin, Mo., has been named New England Small College Athletic Conference (NESCAC) volleyball Player of the Week for Sept. 24.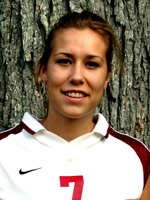 Fennessey led Bates to a perfect 5-0 week and was named tournament MVP in Bates' first-place finish at the Bridgewater State Invitational. She finished with 53 kills (3.53 per game), 65 digs (4.33 per game), and 26 aces. In a rematch of last year's NCAA Division III Championship first round match, Fennessey recorded 17 kills and 15 digs in the tournament title match against Bridgewater State.
The Bobcats are currently 14-4 and ranked seventh among Division III schools in New England. Bates is currently tied for first in NESCAC play and looks to return to the NCAA's tournament where they reached the Sweet Sixteen a year ago.

For more information on Bates volleyball, please visit our web site at http://www.bates.edu/sports/volleyball.html.
# # #
---