November 6, 2001

Contact: Adam Levin
Phone: (207) 786-6411
FOR IMMEDIATE RELEASE
FENNESSEY, WANLESS CLAIM
ALL-NESCAC VOLLEYBALL HONORS
LEWISTON, Maine —Bates College senior outside hitter Lauren Fennessey of Joplin, Mo., and sophomore OH Liz Wanless of Belleville, Ill., have been named to the All-New England Small College Athletic Conference (NESCAC) team for the second straight year. In addition, Fennessey was named NESCAC Defensive Player of the Year for the second time.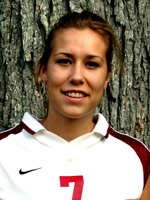 Fennessey, a senior co-captain, was named to the All-NESCAC second team for the second year in a row. One of two Bobcats to play in all 127 games this season, she led the team with 554 digs (4.36 digs per game), second in the conference. She also led the team with 130 service aces (1.02 aces per game), ranking as high as 18th in NCAA Division III play. Fennessey was second on the team with 319 kills (2.51 kills per game) and 205 assists (1.61 assists per game). She was named Most Valuable Player as Bates won the Bridgewater State College Invitational Sept. 21-22 and was named NESCAC Player of the Week Sept. 24. Fennessey was also honored by the Maine Volleyball Coaches' Association as the Maine Player of the Year.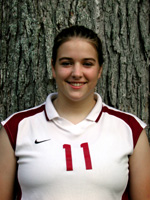 Wanless was named to her second All-NESCAC team, getting second team honors after earning first-team and Rookie of the Year honors in 2000. She led the Bobcats and was second in the league with 550 kills and 4.58 kills per game, 18th in Division III. Wanless also topped the team with a .259 hitting percentage and was second to Fennessey with 75 service aces. Wanless joined Fennessey on the All-Tournament team at the Bridgewater State Invitational and was also named to the All-Tournament team at the Bates Invitational Sept. 28-29, helping the Bobcats to a third-place finish. She was also named to her second All-Maine team.


The Bates College volleyball team, under second-year head coach Jen Bowman, posted a 24-11 record. The Bobcats tied for fifth in the NESCAC regular season and narrowly missed reaching the finals of the conference tournament for the third consecutive year. Bates has posted at least 24 victories for each of the past four years.
Fennessey is a 1998 graduate of Thomas Jefferson Independent Day School, Joplin, Mo.
Wanless is a 2000 graduate of Belleville Township High School West, Belleville, Ill.
For more information on Bates volleyball, please visit our web site at http://www.bates.edu/sports/volleyball.html.
# # #
---