November 15, 2001

Contact: Adam Levin
Phone: (207) 786-6411
FOR IMMEDIATE RELEASE
FARRAR, WANLESS SELECTED TO ALL-NEW ENGLAND TEAMS
LEWISTON, Maine —Two Bates College fall athletes have been named to All-Regional teams today. Junior forward Johie Farrar of West Paris, Maine, was selected by the National Field Hockey Coaches' Association (NFHCA) for the Regional All-America first team for the New England East region, while sophomore outside hitter Liz Wanless of Belleville, Ill., was named to the All-New England region team by the American Volleyball Coaches Association (AVCA) for the second year in a row.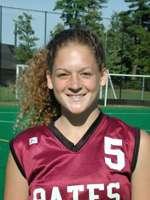 Farrar, who was also an All-New England East region selection in 1999, led the 2-11 Bobcats with 12 goals and 24 points this season. Her 12 goals were the most by a Bates player in more than a decade and ranked her second among New England Small College Athletic Conference (NESCAC) goal-scorers. Farrar was also fifth in the conference with 24 points.
Farrar scored goals in eight of Bates' 13 contests this season, including a school-record four goals in the first half of a 5-4 loss to Tufts Sept. 29. She also scored both tallies in the Bobcats' 2-0 conference win over Trinity Sept. 22. Farrar recorded one other multi-goal game this season, scoring twice in Bates' 6-3 loss at New England College to start the season Sept. 8.
"Johie had a phenomenal season this year," said Bates head coach Wynn Hohlt. "Her speed and agility on the field are tough for other teams to contain. Everyone on the team is excited for her to be recognized in this way."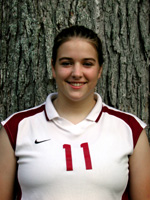 Wanless is a two-time All-New England selection by the AVCA. She also claimed New England Rookie of the Year honors in 2000. Wanless led the Bobcats and was second in the New England Small College Athletic Conference (NESCAC) with 550 kills and 4.58 kills per game, 18th in Division III. Wanless also topped the team with a .259 hitting percentage and was second to senior captain Lauren Fennessey of Joplin, Mo., with 75 service aces.
Wanless joined Fennessey on the All-Tournament team at the Bridgewater State Invitational and was also named to the All-Tournament team at the Bates Invitational Sept. 28-29, helping the Bobcats to a third-place finish. She was also named to her the All-Maine and All-NESCAC teams for the second time in her career.
The Bates College volleyball team, under second-year head coach Jen Bowman, posted a 24-11 record. The Bobcats tied for fifth in the NESCAC regular season and narrowly missed reaching the finals of the conference tournament for the third consecutive year. Bates has posted at least 24 victories for each of the past four years.
Farrar is a 1999 graduate of Oxford Hills High School. She is the daughter of Timothy and Beverly Farrar, West Paris, Maine.
Wanless is a 2000 graduate of Belleville Township High School West, Belleville, Ill.
# # #
---