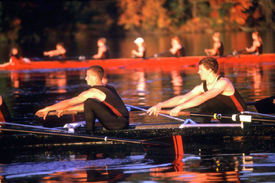 Bates Rowing provides an environment in which teamwork thrives and students dedicate themselves to one of the most rigorous and rewarding sports on campus. Our students are excited by the challenges of both rowing and competition and thrive on the camaraderie of the team. The goal of Bates Rowing is to create a strong work ethic and to compete at the highest level of collegiate rowing. The program seeks dedicated student athletes who have the desire to excel both academically and athletically. Top college-bound athletes seeking one of the best liberal arts colleges in the country should consider Bates College.
Rowing at Bates has a bright future. The College's new commitment to rowing is providing the environment and support necessary to promote success. Coming off its second varsity season, Bates is quickly becoming one of the premier small college rowing programs in the country. Carrying a racing schedule laden with NESCAC and other small college powers, Bates is determined to rank among the best. This determination, in addition to the team's commitment to a high standard of performance, is sure to lay the foundation for the future success of the program.
Bates Rowing offers dedicated student-athletes an opportunity to contribute to a team that is part of a NCAA Division III athletic program that can boast of national recognition in many sports. Bates has taken great strides to support the belief that academic and athletic excellence must coexist as part of a quality liberal arts education. With Coach Carter's commitment to recruiting and teaching, Bates Rowing certainly reflects that notion and shares the tradition of success of Bates athletic teams.
At Bates, rowing spans a 21 week season, divided into a 9 week segment in the fall semester and a 12 week spring segment. The fall season involves competition at various head style races such as the prestigious Head of the Charles Regatta, while the spring is characterized by sprint racing. Traditionally, Bates has placed emphasis on the New England Rowing Championships (NERC) as well as qualifying for and competing at the Avaya Communications Collegiate Championship (ACCC). With the advent of a NCAA Division III Women's Rowing Championship in 2002, the women's focus will shift to include this ultimate collegiate championship.
Bates students take athletic competition seriously and pursue it with uncompromising energy in the same way they approach their academic and career goals. Competing at the NCAA Division III level encourages a balance between academics and athletics; the kind of balance that can serve them well in the professions and goals they pursue after graduation. Varsity athletics in particular help students gain experience in setting goals, honoring commitments, working collaboratively, and meeting challenges - skills that can be applied intelligently to community volunteer work, postgraduate study, business, the arts, public service, and nearly every field of human endeavor.
The Bates boathouse is located less than 15 minutes from campus. The crews row along 8 miles of the Androscoggin River amidst undisturbed Maine beauty. The waterway is shared only with occasional fishermen, wildlife, and the odd bald eagle. The College's fleet consists of numerous eight and four oared shells and oars enough to outfit all boats. Bates' indoor training facility is housed in the Merrill Gymnasium and includes 16 Concept II ergometers with computer interface. In addition, Bates has one of the finest weight training facilities, sports medicine, and support staffs of any Division III collegiate program.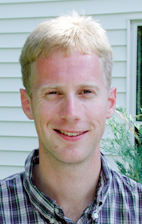 Andrew Carter (acarter@bates.edu) is the second varsity rowing coach in Bates history. He served as an assistant coach at USC since January of 2000. With his help, the Trojans' women's varsity eight boat qualified for the NCAA Championships for the second straight year. From 1996 to 1999, Carter served as head coach at Vassar College in Poughkeepsie, N.Y. At Vassar, he helped the Brewers' women's rowing program make the transition from a club to a varsity sports. Carter has a Bachelor of Science degree in kinesiology and applied sports science from Dalhousie University in Halifax, Nova Scotia and Master of Science degree in Kinesiology and Biomechanics from the University of Western Ontario in London, Ont. He served as head rowing coach at Dalhousie and coached the women's team at Western Ontario. Carter also served as assistant to Al Morrow, coach of the Canadian national women's rowing team, while coaching at Western Ontario's National Rowing Centre. Carter has had seven articles published in academic and professional journals, including six on rowing dynamics and injuries in the journal Biomechanics in Sport.

---


©2001 Bates College.
All Rights Reserved.
Last modified: 6/22/01 by asl