May 9, 2002

Contact: Adam Levin
Phone: (207) 786-6411
FOR IMMEDIATE RELEASE
BATES ROWING MOVES UP IN NATIONAL RANKING
LEWISTON, Maine —The Bates College women's rowing team moved up three spots in the most recent Division III top 20 poll. The women's varsity eight are ranked 13th in the poll released May 9 by USRowing and the Collegiate Rowing Coaches Association.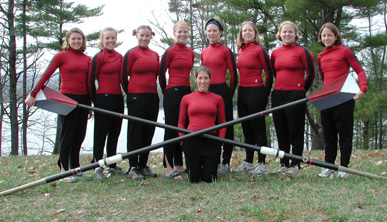 The Bobcats moved up thanks to their performance at the 2002 New England Rowing Championships on Lake Quinsigamond in Worcester, Mass. The women's varsity eight had one of their best races of the season in the qualifying heat. Ranked No. 18 headed into the race, Bates defeated No. 5 Wellesley head-to-head by more that two seconds. They also had better times than four other teams in other heats who were ranked ahead of them: No. 8 Wesleyan, No. 10 Coast Guard, No. 12 Trinity and No. 15 Mount Holyoke. Unfortunately, the Bobcats missed the Grand Final by a mere two-tenths of a second and came in sixth in the Petite Final.
"They used up so much energy — physical, mental and emotional —in such a great race in the heats," said head coach Andrew Carter. "There might not have been enough left in the finals."
The members of the boat are sophomore Shelby Graham of Devon, Pa.; sophomore Kate Mannle of Cabin John, Md.; sophomore Andrea Noyes of Avon, Conn.; sophomore Lindsay Fry of Severna Park, Md.; sophomore Anna Felton of Wenham, Mass.; senior co-captain Laura Allen of Yellow Springs, Ohio; sophomore Renee Blacken of Ithaca, N.Y.; senior co-captain Lori Massa of Reading, Mass.; and junior coxswain Kate Strum of Ridgewood, N.J.
Women's NCAA Division III Varsity Eights (May 8)
Team (1st-Place Votes)      Points  Previous Rank
1. Williams College (8)      160      1
2. Ithaca College            149      2
3. Colby College             142      3
4. William Smith             138      7
5. Smith College             129      4
6. Wesleyan University       115      8t
7. Worcester Tech.           107      8t
8. Rochester Tech.           103      6
9. Wellesley College         102      5
10. Trinity College           86     12
11. USCoast Guard Acad.	     76     10
12. Washington College        68     11
13. Bates College             49     18t
14. Pacific Lutheran          46     13
15. Willamette Univ.          45     16
16. Vassar College            33     14
17. Mt. Holyoke College       31     15
18. MIT                       25     17
19. Puget Sound               24     NR
20. St. Lawrence Univ.        18     NR

Receiving votes: Connecticut College 12, 
Mary Washington College 9, Skidmore College 9, 
Tufts Univ. 2, Marietta College 1, Union College 1.


# # #
---