May 7, 2002

Contact: Adam Levin
Phone: (207) 786-6411
FOR IMMEDIATE RELEASE
WOMEN'S NOVICE EIGHT WINS NEW ENGLAND ROWING CHAMPIONSHIP
LEWISTON, Maine — The Bates College women's novice eight boat won the Grand Final race, becoming New England champions May 4 at the New England Rowing Championship regatta on Lake Quinsigamond in Worcester, Mass.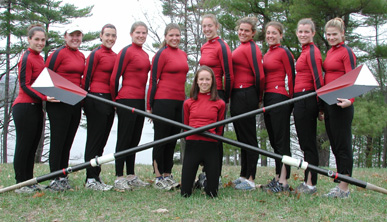 The Bobcats, who had lost only once during the regular season, easily won their preliminary heat with a time of 7:09.23, more than seven seconds faster than the runner-up boat from Division I Boston College. The time was also the only one in three preliminary heats to break 7:10. In the Grand Final race, Bates was the only boat to finish in under 7:00. The Bobcats' time of 6:57.93 bested the boat from Tufts that had defeated them earlier in the year by 3.61 seconds. Bates also defeated boats from Williams, New Hampshire, Boston College and Coast Guard in the Grand Final.
With the victory, Bates earned the top seed at the Avaya Collegiate Championship Regatta held May 11-12 at Mercer Lake in West Windsor, N.J. The Bobcats will take on teams from NCAA Division I, II and III from around the nation in the event.
The members of the Bates novice women's eight boat are: Deirdre Grant of Greenfield, N.H.; Catherine Carroll of Braintree, Mass.; Lauren Reynolds of Endwell, N.Y.; Deborah Opar of Lexington, Mass.; Sienna Vorono of Novato, Calif.; Kate Kemp of Duxbury, Mass.; Elizabeth Diamond of Steamboat, Colo.; Kari Ording of New Canaan, Conn.; and coxswain Carly Rockstroh of Swampscott, Mass. All are first-year students except for Diamond, a sophomore.
For more information on Bates rowing, please visit our web site at http://abacus.bates.edu/sports/rowing.html.
Complete results from the New England Rowing Championships, please visit http://www.qra.org/nerc/index.shtml.
To follow the Bobcats at the Avaya Collegiate Championship Regatta, please visit http://www.row2k.com.
# # #
---