May 3, 2002

Contact: Adam Levin
Phone: (207) 786-6411
FOR IMMEDIATE RELEASE
BATES ROWING GAINS NATIONAL RANKING
LEWISTON, Maine —The Bates College women's rowing team has earned a Top-20 national ranking for the first time in the team's history as a varsity program.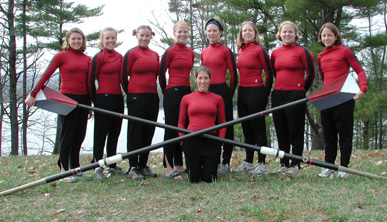 The women's varsity eight were ranked 18th in the most recent poll released by USRowing and the Collegiate Rowing Coaches Association. The Bobcats earned the ranking thanks to a win over previously-ranked Tufts University on April 13.
"The women are pleased to finally be recognized for the fine racing they've displayed this spring," said Bates head coach Andrew Carter. " The ranking is timely heading into the New England Championship this weekend." Eleven of the top 20 teams will be competing at the May 4 race in Worcester, Mass.
The members of the boat are sophomore Shelby Graham of Devon, Pa.; sophomore Kate Mannle of Cabin John, Md.; sophomore Andrea Noyes of Avon, Conn.; sophomore Lindsay Fry of Severna Park, Md.; sophomore Anna Felton of Wenham, Mass.; senior co-captain Laura Allen of Yellow Springs, Ohio; sophomore Renee Blacken of Ithaca, N.Y.; senior co-captain Lori Massa of Reading, Mass.; and junior coxswain Kate Strum of Ridgewood, N.J.
Women's NCAA Division III Varsity Eights
Team (1st-Place Votes)      Points  Previous Rank
1. Williams College (9)      197        1
2. Ithaca College (1)        188        2
3. Colby College             179        3
4. Smith College             175        4
5. Wellesley College         150        6t
6. RIT                       146        8
7. William Smith             130        5
8t. Wesleyan University      124        9
8t. WPI                      124        6t
10. U.S. Coast Guard Acad.   117        10
11. Washington College        98        12
12. Trinity College	         85        11
13. Pacific Lutheran          70        17
14. Vassar College            66        15
15. Mt. Holyoke College       63        14
16. Willamette University     40        13
17. Mass. Inst. of Technology 34        16
18t. Bates College        25      NR
18t. Skidmore College         25        19
20t. Connecticut College      21        18
20t. Univ. of Puget Sound     21        NR

# # #
---