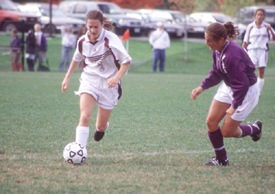 Bates women's soccer has reached the postseason for each of the past five years, twice qualifying for the NCAA tournament and twice reaching the finals of the ECAC championships. The 2000 squad posted a 12-6-0 mark, the second highest win total in school history, earning the second seed in the ECACs and the right to host in all three rounds of the tournament. The Bobcats' run was made even more remarkable considering their 22-player roster had only six upperclassmen and that coach Jim Murphy was faced with the loss of two first team All-NESCAC performers from the prior year, including the school's all-time leading scorer.
The Bobcats made up for their relative inexperience with one of the deepest rosters in coach Murphy's tenure. Sixteen different players scored points during the season, all of whom will return for the 2001 season. Senior forward Amanda Waterhouse (Ciumberland, Maine) bounced back from an injury to lead the team with seven goals and 17 points. Waterhouse tallied four of Bates' five goals in the ECAC tournament. Junior midfielder Krissie Whiting (Contoocook, N.H.) was right behind her on the scoring list with seven goals and 16 points. Whiting, an outfielder for the Bobcat softball team, earned All-NESCAC honors for the second time in her Bates athletic career. She was also named an Academic All-NESCAC performer, while being named to the National Soccer Coaches Association of America (NSCAA) All-New England team along with rookie defender Catherine Crosby (Concord, Mass.). The 2001 Bobcats will be captained by seniors Alicia Dermody (Marblehead, Mass.) and Kate Dockery (New York, N.Y.). Dermody, a two-year captain, tied for fifth on the team in 2000 with three assists, second among fullbacks. Dockery finished second on the team with four goals and four assists, while her 12 points were third-best despite missing the middle part of the season with an injury.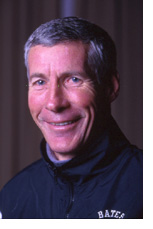 Jim Murphy (jmurphy@bates.edu) graduated from Bates in 1969. In seven years as women's soccer and basketball coach at Bates, he has compiled a 194-89-4 combined record in the two sports, a winning percentage of .683. Murphy has been named Maine Women's Basketball Coaches Association Coach of the Year three times. He was New England Women's Basketball Association Coach of the Year in 1998 and NESCAC coach of the Year in 2000. His teams have reached the postseason in nine straight seasons, including an ECAC championship for the women's soccer team in 1998 and a trip to the NCAA Sweet 16 for women's basketball. From 1969 to 1993, Murphy was a coach and English teacher at Masconomet Regional High School in Topsfield, Mass. He reached six Massachusetts state championship games in women's soccer and women's basketball, garnering four coach of the year awards.

---


©2001 Bates College.
All Rights Reserved.
Last modified: 6/21/01 by asl