October 30, 2001

Contact: Adam Levin
Phone: (207) 786-6411
FOR IMMEDIATE RELEASE
THREE NAMED TO ALL-NESCAC WOMEN'S SOCCER TEAM
LEWISTON, Maine — Three members of the Bates College women's soccer team have been named to the 2001 New England Small College Athletic Conference (NESCAC) All-Conference team. Junior midfielder Krissie Whiting of Contoocook, N.H., was named to the All-NESCAC first team, while senior forward Kate Dockery of New York, N.Y., and sophomore back Catherine Crosby of Lincoln, Mass., were named to the second team.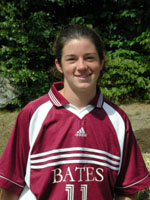 Whiting is named to her fourth All-NESCAC team. She was a second-team selection in soccer in 2000 and is a two-time All-Conference performer in softball. Whiting was fifth on the team with four goals, tops among Bates midfielders, and sixth with eight points, second on the team at her position. Three of her four goals came in wins over conference opponents, including game-winners over Tufts Sept. 29, and Colby Oct. 10. With 30 points in her career, Whiting will be the Bobcats' top returning scorer in 2002.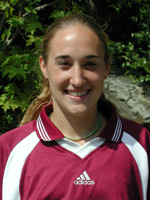 Dockery has earned her first career All-NESCAC nod. She was tops in the conference with 14 goals and second with 32 points this season. Dockery recorded three multi-goal games this season. She scored two goals each in Bates' back-to-back wins against conference foes Trinity on Sept. 22 and Middlebury on Sept. 23, helping her earn NESCAC Player of the Week honors. Dockery also recorded her first career hat trick Sept. 13 against the University of New England and set a Bates College record with nine points on four goals and an assist Oct. 2 against St. Joseph's College.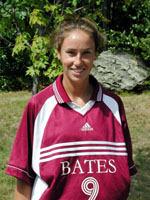 Crosby, who earned All-New England status in 2000, was named to her first All-NESCAC team. She trailed only Dockery with 15 points this season on five goals and five assists. Crosby had two assists in a game twice this season, against St. Joseph's and Trinity. She also scored a goal against the Monks, giving her a career-best four points on the day. Defensively, Crosby was usually called on to mark the opponents' best forward. With Crosby anchoring the backfield, the Bobcats recorded shutouts in eight of their first nine games, including a school-record six-game scoreless streak.

Under head coach Jim Murphy, the Bates College women's soccer team recorded their second-straight 10-win season and third in four years with a 10-4-1 record. They finished tied for third place in the conference with a 5-3-1 record and hosted the first round of the NESCAC tournament. In addition to Dockery, junior goalkeeper Kim Martell of Needham, Mass., also earned NESCAC Player of the Week honors. The Bobcats return eight of 11 starters for the 2002 season.
Dockery is the daughter of William and Dorothy Dockery, New York, N.Y. She is a 1998 graduate of Nightingale Bamford School.
Whiting is a 1999 graduate of Hopkinton High School. She is the daughter of John and Anne Whiting, Contoocook, N.H.
Crosby is a 2000 graduate of Lincoln-Sudbury High School. She is the daughter of Gregory and Anne Crosby, Lincoln, Mass.
For more information on Bates women's soccer, please visit our web site at http://www.bates.edu/sports/wsoccer.html.
# # #
---