September 12, 2001

Contact: Adam Levin
Phone: (207) 786-6411
FOR IMMEDIATE RELEASE
WATERHOUSE, GRAY NAMED BATES ATHLETES OF THE WEEK
LEWISTON, Maine — Senior women's soccer player Amanda Waterhouse of Cumberland, Maine, and junior cross-country runner Malcolm Gray of Bronxville, N.Y., have been named Bates College Athletes of the Week for September 10.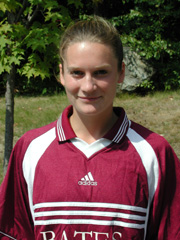 Waterhouse recorded a goal and an assist in the Bates' 3-0 win over Salem State College on Sept. 9. After scoring four of Bates' five goals in last year's ECAC tournament in which the Bobcats were finalists, Waterhouse wasted no time scoring her first goal of the 2001 campaign. She opened the scoring for the Bobcats (1-0) just 2:04 into the contest, taking a pass from classmate Kate Dockery and burying the ball behind the Salem goalkeeper. After a Dockery goal made it 2-0, Waterhouse helped cap the scoring for Bates when she found an open Krissie Whiting who nailed home the third goal midway through the first half. The team's next game is at University of New England on September 13, before commencing the New England Small Colleges Athletic Conference (NESCAC) portion of their play on Saturday, September 15 at Amherst College.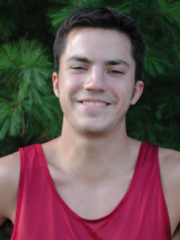 Gray led all Bates runners and finished fourth overall at the Tufts University Hayseed Classic Sept. 8, his top collegiate individual finish. Gray, who finished with a personal best time of 28:04, was one of five Bates runners to finish in the top 12. The team placed second overall, just four points behind Division II Bentley College, and well ahead of the host Jumbos, ranked fifth in the nation, who were resting most of their top runners. The next meet for the cross-country team is Saturday, Sept. 15 at UMass-Dartmouth.

Waterhouse is a 1998 graduate of Waynflete High School. She is the daughter of Robert and Megan Waterhouse, Cumberland, Maine.
Gray is a 1999 graduate of Bronxville High School. He is the son of Alan and Elizabeth Gray, City Island, N.Y.
# # #
---