January 10, 2002

Contact: Adam Levin
Phone: (207) 786-6411
FOR IMMEDIATE RELEASE
MARTELL, WEYMOUTH NAMED TO
VERIZON ACADEMIC ALL-DISTRICT TEAMS
LEWISTON, Maine — Bates College senior forward Drew Weymouth of Holden, Mass., and junior goalkeeper Kim Martell of Needham, Mass., have been named to the Verizon Academic All-District I College Division men's and women's soccer teams, as selected by the College Sports Information Directors Association (CoSIDA). Weymouth, a first-team selection, will be placed on the ballot for Academic All-America honors. Martell was a second-team selection.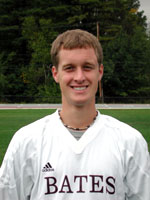 Weymouth, a biology major with a minor in mathematics, started all 15 games for coach George Purgavie's men's soccer team this season. He was the team's leading scorer with a career-high 12 points, tying for the team lead with four goals and four assists. Weymouth recorded three three-point games this season, most notably against New England Small College Athletic Conference (NESCAC) foe Tufts University, when he assisted the first goal and scored the game-winner in the 78th minute. Weymouth helped the Bobcats to a 6-6-3 record this season and a berth in the NESCAC tournament for the first time. He finished his career with eight goals and 12 assists for 28 points.
Weymouth is a six-time Dean's List student and a three-time Academic All-NESCAC selection. He was named a Charles A. Dana Scholar as a sophomore and was recently elected as the senior class secretary. Weymouth has spent the last two summers doing research as the UMass Medical School biotech lab.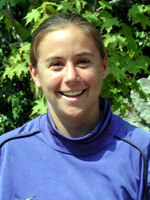 Martell, a neuroscience major, started all 15 games for coach Jim Murphy's 10-4-1 women's soccer team this season. She recorded seven solo and two combined shutouts this season. Included in that total was a school-record six-game shutout streak from Sept. 18 to Oct. 2. Martell was named New England Small College Athletic Conference (NESCAC) Player of the Week Oct. 1 for her performance during the Bobcats' shutout streak. She ended the season ranked fifth in the NESCAC with a 1.18 goals-against average, while Bates was 15th in NCAA Division III with 0.6 shutouts per game. Martell, a captain-elect for the 2002 season, has started all 48 games for the Bobcats over the past three seasons, compiling a 1.24 goals-against average and 19 shutouts. She anchored Bates to the 2000 Easter College Athletic Conference (ECAC) New England Division III title game.
Martell is a five-time Dean's List student and was named to the Fall 2001 Academic All-NESCAC team.
Eligible candidates for Academic All-America honors must be at least a sophomore in academic standing, must have been a starter or key reserve, and must have a 3.2 cumulative grade-point average. This is the first year that the Verizon Academic All-America program has sponsored teams in soccer.
District I consists of New England and New York and includes schools from NCAA Division II and III and the NAIA.
Weymouth is the son of Donald and Elizabeth Weymouth, Holden, Mass. He is a 1998 graduate of Wachusett Regional High School
Martell is the daughter of John Martell and Mary Hale Martell, Needham, Mass. She is a 1999 graduate of Needham High School.
# # #
---