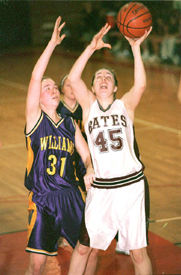 Bates women's basketball has been one of the College's premier programs over the past five seasons. The Bobcats have posted at least 18 wins each year over that span, reaching the post-season every time. Coach Jim Murphy '69 has produced five thousand-point scorers, four All-Americans and three New England Small College Athletic Conference (NESCAC) Players of the Year as the Bobcats have racked up a 101-27 record. The team's biggest challenge in 2001-02 will be in the second NESCAC tournament at the end of the campaign. Murphy and his charges know that there will only be one post-season berth up for grabs, the conference's automatic bid to the NCAA Division III tournament.

While Bates will have to replace the scoring touch of departed All-American and third-all-time leading scorer Kate McLaughlin '01, the next three leading scorers are all back. Senior co-captain Kate Dockery '02 stepped into a starting guard role for the first time and led the team in minutes played while putting up a career-best 10.5 points per game. Junior small forward Carla Flaherty '03, the Most Valuable Player of the Husson College Paul Bunyan Classic, averaged 10.4 points per game, third best on the team. Sophomore Lauren DuBois '04 was the Bobcats' top reserve in 2000-01, finishing second on the team in 3-point shooting.

The Bobcats play their home games in Alumni Gymnasium, an intimate playing arena, in which Bates fans provide a decided home-court advantage. "Alumni Gym is one of the best places to play basketball games," Murphy said. "It's just this old, quaint, cozy New England gym, and when you get several hundred people in there, it sounds like 20,000. When we played our NCAA games [with Salem State in 1998 and Clark in 2000] here, there is no question we got a huge lift from the sell-out crowd." In their current five-year stretch reaching the postseason, the Bobcats are a remarkable 47-8 at home.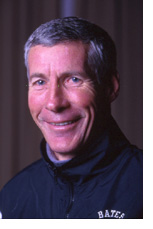 Jim Murphy ( jmurphy@bates.edu ) graduated from Bates in 1969. In six years as head women's soccer and women's basketball coach at Bates, he has compiled a 194-89-4 combined record in the two sports, a winning percentage of .683. Murphy is a three-time Maine Women's Basketball Coaches Association Coach of the Year (1996, 1998, 2000). He was also named New England Women's Basketball Association Coach of the Year in 1998 and NESCAC Coach of the Year in 2000. His teams have reached the postseason in eight straight seasons, including an ECAC championship for the women's soccer team in 1998 and a trip to the NCAA Sweet 16 for women's basketball in 1998. From 1969 to 1993, Murphy was a coach and English teacher at Masconomet Regional High School in Topsfield, Mass. He reached six Massachusetts state championship games in women's soccer and women's basketball, garnering four coach of the year awards.

---


©2001 Bates College.
All Rights Reserved.
Last modified: 6/21/01 by asl