January 17, 2002

Contact: Adam Levin
Phone: (207) 786-6411
FOR IMMEDIATE RELEASE
GERRITY, ZUREK NAMED MAINE ROOKIES OF THE WEEK
LEWISTON, Maine — Bates College sophomore forward Brian Gerrity of Manchester, Maine, and first-year forward Olivia Zurek of Arlington, Mass., have each been selected as the Maine Rookie of the Week for Jan. 14 by their respective coaches' associations.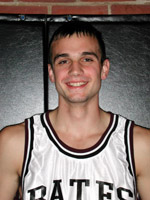 Gerrity, a transfer who redshirted his first year at UMass-Lowell, averaged 9.3 points and 3.3 assists in just 20 minutes per game for the Bobcats last week. He helped Bates, ranked No. 2 in the state by the Maine College Basketball Coaches and Writers Association, to a 3-0 week that extended the team's winning streak to six games. After recording just one assist in 11 minutes in the Bobcats' 62-55 road win over Endicott College Jan. 8, Gerrity shined in two home games in Alumni Gymnasium. He had 11 points and three assists on Jan. 10 as the Bobcats escaped Gordon College, 78-76. Finally, in an 88-75 win over arch-rival Colby College on Jan. 12, Gerrity recorded a pair of career-highs with 17 points, second on the team, and six assists, leading the team.
For the season, Gerrity is averaging 6.9 points per game, while shooting 44.2 percent from the field and 42.9 percent from 3-point range. With Gerrity's help, the 11-3 Bobcats are ranked second in NCAA Division III play in field-goal percentage defense, holding opponents to just 35.9 percent from the floor.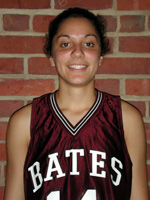 Zurek, a first-year two-sport standout who also plays for the Bates volleyball team, averaged 10.0 points and 6.5 rebounds in just 20.5 minutes per game in two games for the Bobcats last week. She shot 53 percent from the floor (eight-of-15) and had three assists and two steals. In a Jan. 10 road game at Colby, Zurek had 10 points and six rebounds in a 64-57 win, the Bobcats 10th in the last 11 games against the Mules. On Jan. 12 at home against Babson, sh
For the season, Zurek is averaging 7.5 points per game, tied for third on the team. As a team, Bates leads all teams in Maine, scoring 77.3 points per game, 15th in NCAA Division III play. Zurek had averaged 6.4 rebounds per game and shoots 51.3 percent from the floor so far this season for the 9-2 Bobcats, who are ranked third in the state by the Maine Women's Basketball Coaches' Association.
Gerrity is a 2000 graduate of Maranacook Community School. He is the son of Bruce and Katherine Gerrity, Manchester, Maine.
Zurek is a 2001 graduate of Arlington High School. She is the daughter of Patrick and Charlotte Zurek, Arlington, Mass.
# # #
---