December 10, 2001

Contact: Adam Levin
Phone: (207) 786-6411
FOR IMMEDIATE RELEASE
DOCKERY NAMED NESCAC, MAINE PLAYER OF THE WEEK
LEWISTON, Maine — Senior guard Kate Dockery of New York, N.Y., has been selected as the New England Small College Athletic Conference (NESCAC) and Maine Women's Basketball Coaches' Association (MWBCA) Player of the Week for Dec. 10.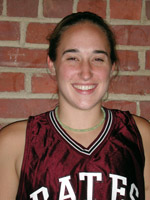 Dockery, who also earned NESCAC Player of the Week honors in the fall as a member of Bates' women's soccer team, averaged 24 points, three rebounds, two steals, 1.5 assists and one block per game in a 2-0 week for the Bobcats. She also shot 57.1 percent from the floor (20-35) and 75 percent from 3-point range (6-8) on the week.
Dockery had 11 points in Bates' 94-38 midweek win over Thomas College Dec. 5, but she earned the award primarily for her stellar performance in a 74-70 Bobcat win over the University of Maine-Farmington Dec. 8. In that game, Dockery tied two school single-game records with 37 points and five 3-pointers. She hit 15-of-24 from the floor against UMF, including five-of-seven from long range. Dockery scored 19 points in the first half as the Bobcats jumped out to a 40-26 lead at the break. Maine-Farmington climbed back in the game, however, taking advantage of a 16-1 scoring margin from the free throw line in the second half. The Beavers cut the lead to one, 68-67, with 2:30 left in the contest, but Dockery hit Bates' final three field goals to ice the victory.
In coach Jim Murphy '69's eighth year at the helm, Bates is 5-1 and ranked third in the most recent MWBCA poll. The Bobcats are the top field-goal- and 3-point-shooting team in the NESCAC and in the MWBCA. Dockery is seventh in the NESCAC in scoring, averaging 13.3 points per game.
For more information on Bates women's basketball, please visit our web site at http://abacus.bates.edu/sports/whoops.html.
# # #
---