February 28, 2002

Contact: Adam Levin
Phone: (207) 786-6411
FOR IMMEDIATE RELEASE
DOCKERY, FLAHERTY, ZUREK
EARN HOOPS POST-SEASON HONORS
LEWISTON, Maine — Three members of the Bates College women's basketball team have been recognized in the postseason by the New England Small College Athletic Conference (NESCAC) and Maine Women's Basketball Coaches' Association (MWBCA). Junior forward Carla Flaherty of Gorham, Maine, was named first team All-NESCAC and All-Maine, while senior guard Kate Dockery of New York, N.Y., earned second team honors from both organizations. In addition, first-year forward Olivia Zurek of Arlington, Mass., was selected as the Maine Rookie of the Year by the MWBCA.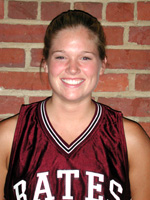 Flaherty, a Gorham High School graduate, led the Bobcats in scoring, averaging a career-high 12.8 points per game, seventh-best in the NESCAC. She also led the Bobcats with 44 steals and shot a career-high 42.7 percent from the floor, fifth best in the conference among players with four field goals per game. Flaherty led Bates in scoring in 12 of 25 games this season, including a career-high 24 points Feb. 15 against Connecticut College, when she established Bates' single-game record with six 3-point field goals. She also scored 21 points in a Feb. 1 contest when the Bobcats defeated in-state rivals Bowdoin, 56-54, handing the Polar Bears their only loss of the regular season. Flaherty earned NESCAC Player of the Week honors for that performance. She as also selected MVP of the Paul Bunyan Classic at Husson College for the second straight year.
"Carla was our most consistent player this season," said Bates coach Jim Murphy. "She improved as the season went on and had some of her best games against NESCAC opponents. Carla is definitely deserving of this recognition."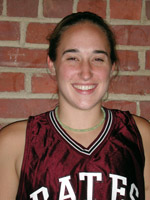 Dockery, a co-captain and Bates' lone senior this year, was just behind Flaherty in scoring, averaging 12.4 points per game, eighth in the NESCAC. Dockery, who averaged a team-high 27.2 minutes per game, also led the Bobcats with 32 3-pointers and 69 assists. She led the Bobcats in scoring nine times, including a 37-point performance Dec. 8 against Maine-Farmington in which she tied the school single-game scoring record. Dockery also hit the game-winning free throws in the Bobcats' win over Bowdoin. She ends her career with 697 points, 17th on Bates' all-time list.
"Kate is a tough, hard-nosed player who gave opponents problems on both ends of the court," Murphy said. "She will be sorely missed next year."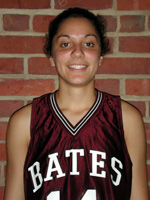 Zurek, a two-sport standout who also plays volleyball, led the Bobcats in rebounding, averaging 5.8 boards per game despite coming off the bench and playing fewer than 20 minutes per game. She was fifth on the squad in scoring with 7.3 points per game and led the team in field-goal percentage. Zurek hit 50.7 percent from the floor (70-138), the top single-season percentage in school history with 100 attempts in a season. She also tied for third on the team with 31 steals. Zurek was the team's top scorer once and led the squad in rebounding six times.
"Olivia showed she is a terrific athlete during volleyball season and just continued to prove it on the basketball court," Murphy said."She will be even better in the future as she gets more playing time."
Bates finished the 2001-02 season with an 18-7 record, advancing to the semifinals of the NESCAC tournament. This season marked their sixth consecutive campaign with at least 18 wins. The Bobcats led the NESCAC in scoring average at 73.0 points per game, while their scoring margin of 15 points per game was among the top 30 in the NCAA. They also set team single-season records for assists (460), 3-point field goals (120) and shooting percentage (41.8).
For more information on Bates women's basketball, please visit our Web page at http://abacus.bates.edu/sports/whoops.html.
# # #
---