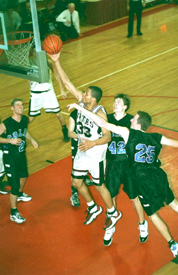 The expectations are high for the 2001-02 men's basketball program as the Bobcats look to improve on their great accomplishments of last season. The 2000-01 campaign saw the Bobcats' capture outright possession of the CBB title for the first time since the 1966-67 season with a sweep of archrival Colby and an exciting road victory versus Bowdoin. The season was also highlighted by 13 victories and a school record-breaking nine game win streak. Alumni Gymnasium was also the home of four 1,000 point career scorers this past season Ñ a feat believed to be matched only once in NCAA Division III history.
The 2001-02 Bobcats will be led by three of those 1,000-point career scorers, who will also serve as tri-captains in their senior year. Alex Wilson '02 (Duxbury, Mass.), who will be serving his third year as captain, enters the season with 1,096 career points. A versatile 6-6 forward, Alex will look to expand his basketball resume that already includes being honored as the New England Basketball Coaches' Rookie of the Year as a first-year and an All-NESCAC selection as a sophomore. Ed Walker '02 (Roxbury, Mass.) joins his teammate Wilson for his third consecutive year as the captain of the Bates College men's basketball program. Ed will look to continue his great career that includes being named the Bates College Defensive Player of the Year for two consecutive seasons, tallying 1,024 career points as well as being selected All-NESCAC for his efforts during his junior season. Senior Billy Hart '02 (Haverhill, Mass.), who will be serving his as captain of the Bobcats for the first time, enters the season with 1,008 career points. Billy, a deadly 3-point specialist, was also recognized as a Verizon Academic All-American for his commitment on the basketball court and in the classroom.
The junior class will also play a significant role in the 2001-02 quest for the NESCAC Championship. CJ Neely '03 (N. Easton, Mass.) brings a combination of skill, power and finesse to the frontcourt. Neely averaged over seven points and five rebounds per game. He also led the team by drawing 12 offensive charges. Transfer and former Mr. Basketball in Maine during his senior year in high school Angelo Salvaggio '03, will join the Bobcats as a junior this season. A graduate of Cheverus High School in Portland, Angelo's presence will bring plenty of additional excitment and local interest for the next two years.
The backcourt will be strengthened by the play of athletic sophomore combo guard Ramon Garcia '04 (Haverhill, Mass.) who was one of the top newcomers in the NESCAC last season. Ramon average over ten points per game and was second on the team in assists. Also looking to contribute to the backcourt successes of 2001-02 are guards John Costello '04 (Wellesley, Mass.), Brian Gerrity '05 (Manchester, Maine) and Mario Lugo '05 (Hartford, Conn.). Among the players strengthening the frontcourt will be the much-improved sophomore Pat Conroy '04 (So. Portland, Maine) as well as newcomers Hector Mancebo '05 (Lawrence, Mass.), Elliott Linsley '05 (Murrieta, Cal.) and Victor Rivera '05 (New York, N.Y.).
"We are looking forward to competing for the NESCAC Championship," notes Coach Joe Reilly. "It is exciting to compete in one of the top, if not the best, Division III conferences in the country. The team has set some lofty goals for this season and they have been dedicated to working hard in the off-season to reach those goals."
The tradition of excellence associated with Bates College will continue to grow as the Bobcats attract more talented student athletes who will take advantage of all the academic and athletic opportunities available on the Bates campus. It is an exciting time to be associated with Bates College men's basketball!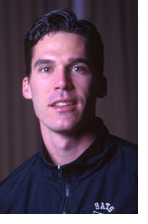 Joe Reilly (jreilly2@bates.edu) took over the Bates basketball program and returned to the NESCAC in July 1997, after serving as an assistant coach at Yale University for three seasons. As a former two-year captain and member of the 1,000-point club at Trinity College in Hartford, Conn., Reilly is steeped in the tradition of NESCAC basketball. He received a bachelor's degree in economics from Trinity in 1991 and a master's degree in business administration from the University of Rhode Island in 1994. Reilly comes from a prominent family of high school coaches in Connecticut, where his father, brother and uncle have combined for more than 900 career victories at South Catholic, East Catholic and Portland, respectively.

---


©2001 Bates College.
All Rights Reserved.
Last modified: 6/21/01 by asl