February 27, 2002

Contact: Adam Levin
Phone: (207) 786-6411
FOR IMMEDIATE RELEASE
WILSON NAMED SECOND TEAM ALL-NESCAC
LEWISTON, Maine — Bates College senior forward Alex Wilson of Duxbury, Mass., was named to the New England Small College Athletic Conference (NESCAC) men's basketball All-Conference second team today.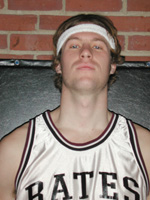 "Alex had a great season and a great career at Bates," said head coach Joe Reilly. "He played hard every game and will be missed by our program."
Wilson, a four-year starter for the Bobcats, led the Bobcats in scoring (17.8 points per game), rebounding (8.6 rpg), field-goal and free-throw percentage (51.0 and 86.1 percent, respectively) and blocked shots (15). He ranked second in the NESCAC in free-throw shooting, third in rebounding and seventh in field-goal percentage and scoring average.
Wilson led Bates in rebounding in 19 of their 24 games and was their top scorer 12 times. He recorded a career-high nine double-doubles this season and twice scored a career-high 30 points: Dec. 2 against Suffolk University and again Jan. 26 against NESCAC foe Trinity College.
Wilson, who scored his 1,000th career point a junior, became Bates' third all-time leading scorer when he scored 22 points on Feb. 15 against Connecticut College. He ends his career with 1,523 points, making him just the third Bobcat to surpass the 1,500-point plateau. This was the second time in his career that Wilson earned All-NESCAC honors. He was also a second-team selection in 2000.
Under fifth-year head coach Reilly, Bates finished the 2001-02 season at 13-11. Included among their wins was a dramatic 87-84 victory over Williams College Feb. 9, when the Ephs were ranked No. 24 in the nation. It was Bates' first victory over Williams since 1980-81. The Bobcats led the NESCAC in free throw percentage (74.4 percent) and were 24th in NCAA Division III play. They were also second in the league in scoring, averaging 81.1 points per game.
For more information on men's basketball at Bates, please visit our web site at http://abacus.bates.edu/sports/mhoops.html.
# # #
---