February 15, 2002

Contact: Adam Levin
Phone: (207) 786-6411
FOR IMMEDIATE RELEASE
GERRITY NAMED MAINE ROOKIE OF THE WEEK
LEWISTON, Maine — Bates College sophomore forward Brian Gerrity of Manchester, Maine, has been selected as the Maine Rookie of the Week for Feb. 11 by the Maine College Basketball Coaches and Writers Association (MCBCWA).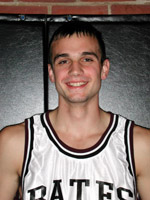 Gerrity, a transfer who redshirted his first year at UMass-Lowell, averaged 14.5 points, 3.5 rebounds and 2.0 assists in both a win and a loss for the Bobcats last week. He shot 62.5% (10-16) from the floor and 66.7% (8-12) from three-point distance. Gerrity helped Bates beat the 24th ranked team in the nation in a win Saturday over Williams (19-4, 6-2). He scored 15 points behind 5-7 shooting, converting 4-5 three point shots. The 87-84 upset victory over Williams was the first time in 15 games and 20 years that the Bobcats have defeated the Ephs.
For the season, Gerrity is averaging 7.4 points per game, while shooting 48.4 percent from the field and 44.6 percent from 3-point range. With Gerrity's help, the 13-9 Bobcats, who are 1-6 in NESCAC play, are the 3rd ranked team in Maine. Bates is also in the top 30 in NCAA Division III play in field-goal percentage defense, holding opponents to just 39.7 percent from the floor, as well as free-throw percentage, making 73.9% of their shots over the season.
Gerrity is a 2000 graduate of Maranacook Community School. He is the son of Bruce and Katherine Gerrity, Manchester, Maine.
For more information on menŐs basketball at Bates, please visit our web site at http://abacus.bates.edu/sports/mhoops.html.
# # #
---