BRISTOL, RI - The Bates cross country team competed at the Eastern College Athletic Conference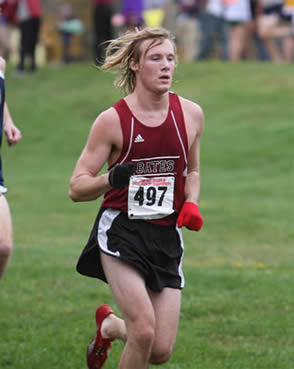 Cross Country Championship this weekend at Colt State Park in Bristol, Rhode Island. Led by a 53th place finish from freshman Peter Corcoran, the men placed 18th overall. Corcoran, who has been a solid member of Bates' top seven all year, did not race at State of Maine or at NESCAC due to an injury. His race was clearly a solid indicator that he is recovered and ready to run next week at NCAA Regionals at Williams College. Corcoran ran a time of 28:02 on a crowded and confusing course.
Following Corcoran was sophomore Joe Musso, placing 84th in a time of 28:36. After Musso was first year Sam Wood with a time of 29:07 in 117th place, followed by sophomores Kevin McDonald in 29:35, Peter Gurney in 29:54, Ben Taska in 30:27, and Tristan Black-Ingersoll in 31:43.
Bates rested its top six runners in anticipation of the NCAA Regionals Championship at Williams College next Saturday. Normally Bates races its 8th through 14th runners at the ECAC meet, however without a clear seventh runner this year, the position was open to the first Bates runner this weekend. Corcoran made a clear statement leading Bates this weekend, and will join the other six runners next weekend at regionals, also being the third freshman competing in our top seven this year.
Wood, McDonald, Gurney, Taska and Black-Ingersoll end their season with the accomplishment of making the ECAC team within their first two years at Bates. Corcoran and Musso head to Williams next week for Regionals, in hopes of racing on part of the best Bates team this season. After the meet Coach Fresh was quick to point out that our ECAC team consisted of two freshman and five sophomores, one of the youngest ECAC squads we've had in a while. Moxies went out to Corcoran, Musso, and Wood for solid races and improvement on State of Maine performances. Senior Al Stewart, the alternate for ECACs, also received a Moxie for his outstanding effort and improvement all year. Non-regionals runners will compete in a 3,000 meter time trial on the new indoor track this Thursday. NCAA Regionals are held at Mt. Greylock High School in Williamstown, Massachusetts, hosted by Williams College, next Saturday.