Head Coach Al Fereshetian

Why Bates?   Tradition and Excellence, both academically and athletically.   Bates is among the finest academic institutions in the nation with a down to earth  and very friendly atmosphere.  Athletically, we have been among the strongest cross country and track and field teams in New England for over 50 years!   Bates is a place where you can grow.  We desire dedicated student-athletes who understand that success is only and always achieved through a committed  pursuit of excellence.  At Bates, it doesn't really matter what you have done, what really matters, is what you are willing to do!  When you get a group of individuals together who begin to focus on the possible, then special accomplishments generally follow.  Bates' 4-4-1 curriculum is unique to itself and allows for amazing experiences academically and athletically.   Come see what we are all about, you will not be disappointed. 

Jamey Epstein '13

      I will always remember the call I received from my mom while I was shopping at the Maine Mall around Christmas 2008: "Oh Jamey, you got in!" Receiving news of acceptance is truly exciting for anyone who has applied early decision to a college, but this acceptance wasn't to any college  -- it was acceptance to Bates College. I was enamored with Bates for its academic excellence, established Cross Country and Track programs, renowned faculty and a true sense of place that I found unmatched by any other school.

        The team atmosphere during my freshman year at Bates has been fantastic. Those lines that separate running ability and age faded as the team became one cohesive group early in the Fall.  Team meals are not mandatory, but one will always find almost the entire Cross Country team crammed around two tables at any given meal. This atmosphere of acceptance and friendship is one that freshmen dream of finding.  As many graduates of Bates continue to tell me, they have never met an unhappy graduate of this truly fine College. Go Bobcats!

Chris Murtagh '11

Well, my answer is simply Al Fereshetian. In my opinion he ranks among the best coaches and technical experts in the country. His dedication and commitment to the program and the athletes is visible in our successes as a throws program this year and as a team overall. With 3 school records broken so far in the throws, and more waiting to fall Coach Fresh is pushing us to exceed what we thought our potential was. As a thrower at Bates College I had the pleasure of learning from 2 of the best throwing Coaches in Division III and arguably the country in Joe Woodhead and Al Fereshetian. And Coach Woodhead's established tradition of champions is sure to continue under Coach Fereshetian. The Bates throws program will continue to be one of the most dominant programs in Division III with Coach Fresh at the helm.  

Tristan Black-Ingersoll '11

If I were offered a full ride to run for the University of Oregon and was guaranteed to be the next Bernard Lagat, I would turn it down it an instant to run for Bates.

Brett Epler '11

Bates has an amazing atmosphere filled with energetic and friendly people.  The strong reputation of Bates' track program has attracted many athletes who are dedicated to both athletics and academics.  This combination creates the true Bates student.  The enthusiasm from students, teachers, the team, and coaches shows how everyone is involved.  The close relationships and campus style also contribute to this amazing place.

Tom Esponnette '11 (Kirby)

Bates is right across the river from my hometown, so when I went to Bates for the first time to do a visit I was surprised by how welcoming the campus is. I went into the visit thinking how close the school is and how I was just going to "check it out" but when i went to go talk to coach and he introduced me to the team, they really made me feel welcome on the campus. During the couple of months after my first visit with the team I made a couple more visits to the meets and each time found myself being greeted by a member of the track team wanting to talk to me about Bates life and about the school. I was even invited to a gathering after the meet which I ended up turning down, but that just showed me how welcoming and friendly the team was. It was a gimme after that for which school was right for me: BATES!

Kevin McDonald '11 (Gucc)

I feel like one of the requirements to get into Bates is that you have to be awesome person. Bates College is comprised of 1750 of the best kids ever. The best of those 1750 run cross country/track.

Joe Musso '11 (Squeak)

Great academics, beautiful campus, love the small school atmosphere, good running program. 

Ryan Quinn '11

 The transition from high school to a completely new atmosphere was quite intimidating at first. I still remember the day I first arrived at Bates, worrying if I was going to fit in. As I timidly walked through the campus, it was the members of the track team who welcomed me and made Bates feel like home. Aside from their speed and toughness, it is the remarkable personalities and passion of Bates athletes that sets them apart from those at other schools in NESCAC.

Ben Taska '11 (The Big Ticket)

I'll say a few of the things I most enjoy about running for Bates, and about Bates as a college: I really feel like both the running team and coaches are very supportive of me and everyone, and I never feel like I am being urged to do things I don't want to do.  Hazing is non-existent on this team.  It has been great running for Bates compared with high school running, because there is the benefit of having people at my level that I can go run with.  I really feel like I am a part of a team: team nicknames, team showers, and simply all the time spent together adds to my feeling of solidarity. As for Bates as a college, I am really enjoying it so far.  It feels like its own little community, and I feel really glad to be a part of it.  As for the classes, I like the feeling of freedom: I have so far not felt held down by distribution requirements, and have been trying different things, taking subjects that I like.  I think that Bates is very supportive of this kind of mindset. You do not need to know for sure what your major is going to be right from the beginning. Another thing that I really like about Bates is all the really friendly people that I've met so far: I was home schooled all the way up to college, so my social life was much more limited than that of most kids coming into college.  Bates has been a great way for me to broadly widen my social opportunities.  Bates is a great college, and I do not have any regrets in my choice to come here.

Ethan Waldman '11

I couldn't think of a better school to run track for than Bates. The coaching staff and the other athletes are very supportive and positive, and I've really grown as an athlete and as a person from being a part of the team. I think Bates is a great place because it attracts very passionate and dedicated people, and because we're not Colby.

Doug Brecher '10 (Fudge)

I like running for Bates because no matter what level you are running at or how you are doing, there are always multiple guys backing you up and giving you a helping hand. Everyone on the team is really accommodating to incoming freshman, and they go out of their way to help them fit in and make sure that they find a place on team.

Peter Garber '10

I chose Bates because I found the two things I was looking for: a pole vault program that I could develop in and a team environment. Looking at the history of the Bates vaulters, I can see that they were jumping the same heights as me as freshmen and not only developed, but excelled under our coaching staff, which is exactly what I wanted. The team aspect was harder to come by. I like that fact that no matter who you are and what event you do, every Bobcat on that track is cheering with everything they've got when you are competing. It brings a real feeling of compainionship when you are alone in your lane on the backstretch or on the runway. 

Rich McNeil '10

Bates seemed the best fit for me for one reason - actually more like 17 reasons: The 17 or more All American throwers in Bates history is something I want to be a part of, and hopefully I can be added to the list within my four years. 

[Rich has since achieved his goal, and is now a two time All American.]

Jeff Roeser '10 (Doogie)

Bates has a beautiful campus hidden away in the small town of Lewiston; it's an academically challenging environment, and a good place to focus on what you enjoy. The campus has a fun and creative energy about it.

Ryan Dean '09 (Paddington)

For me, the most appealing aspect about Bates is that it is very accepting. I feel this especially in regards to the track and field team here, which I have been a part of since my first year. Acceptance is an important quality that this team has because it aids the development of a strong sense of unity. This unity in turn gives us a strong competitive edge and allows us to have a good time together.

CJ Murray '09 (Flim)

What I've always liked about Bates is its tradition of not only talented, but tough runners. When you hear stories of guys like Paul Hammond, Mike Danahy, Justin Easter, etc. it's inspiring. Those are the kind of athletes you want to be like. Running is about toughness, and that's why so many Bates runners have seen success. 

Tim Natriello '09

After my senior year in high school, I decided that I had too many goals left unaccomplished and too many miles left in me to simply stop running. I was fortunate enough to get into Bates, where I was able to comfortably pursue my running goals alongside my academic ones. For me, the strongest part of the running program is its focus on consistency over time. If a determined individual puts in the work, day in and day out, he will see the results, even if not immediately. I have personally translated this philosophy over to my academic life with success. The Bates running program is full of very talented individuals who always look to work hard, and are able to cope and recover from life's inevitable disappointments.
Dillon Tung '09 (Sauce)

The best thing about running for Bates is, as it should be, the team. They've been friendly, accepting, and are a pleasure to be around. Some of the alumni are characters, to be sure. I love Bates' close-knit, inclusive feel. Everyone eats in one dining hall. My classes are small, all of my professors recognize me (or at least they pretend they do), and some share interests with me and take a genuine interest in my personal life. I always feel that I can walk around campus like it's my front yard (except in the winter). 

(note: Sauce is from sunny LA, California)

Michael Watson '09 (Bic)

What makes running at Bates great is the team. As long as I have been at Bates, our team, either Track or Cross Country has been a tight-knit unit of competitors as well as friends. The attitude of the team has always been a very accepting one of runners of all talents. Even in the "miserable" winters, logging cold and painful miles, I would never dream of stopping because of how much I love my teammates. In high school, I ran more for myself, but at Bates, I run for my teammates. 
Matt Dunlap '08 (Chewy)

Coming to Bates was an easy decision for me to make. After talking to current Bates students and Bates graduates I knew the College was a place where I would receive a great balance between education and athletics. Furthermore I knew Bates would also be a place where I would be able to juggle both running and skiing. In my years at Bates I have been given the opportunity to run on a great team and meet lots of great people, as well as having been given the opportunity to work with two great coaches in Coach Fresh and Goewey.

Noah Gauthier '08

Bates attracted me with its longstanding tradition of winning. Competing for a team that has a coaching staff dedicated to excellence is important, as is being surrounded by athletes who push themselves to be the best. In particular, working with Coach Woodhead has been a pleasure in that he has been able to instill a culture of success with his group of athletes. Every branch of our support cast has an obsession with winning and this can surely be found at the heart of any team that consistently produces great results. Oh, ya, Bates College has good academics, too. 

Matt Lopez '08

After visiting many colleges over the summer I came to the realization that Bates was the college for me. It was not in suburbs of Massachusetts, which I had grown accustomed to, rather the college was in the state of Maine. A new environment which I could explore and grow as an individual. The decision was made even easier by my overnight at Bates, where everyone was extremely friendly and showed me why Bates is a great place. Another positive that factored into my decision were the coaches. Both Coach Harriman (football coach) and Fresh encouraged me to participate in both football and track, an opportunity which other colleges frowned upon. Not to mention, Bates is a top 20 liberal arts college, so I knew that I would be receiving a great education over my four years here.

Tim McCall '08 (T-Unit)

Coming to Bates has been the smartest decision I have made in my life. I knew I wanted to run in college, and I knew that I wanted to run in Maine. Coach Fereshetian and Coach Goewey are very knowledgeable, and concerned with our development not only as athletes, but as students and people. After spending four high school years at an "uber preppy" prep school, at which I did not always fit in, I was ready for a change. I find Bates to be refreshing with professors and students who are incredibly intelligent, yet at the same time down to earth and very egalitarian. I have not once regretted the decision to come to Bates, and the team is a big part of why I love it here.

Andrew Percy '08 (Ash)

My freshman calculus class had 14 students in it. That about sums up the type of education I signed up for when I decided to come to Bates. Bates is such a close community that it is not strange to run into professors playing racquetball in the gym next to us, or for the dining crew to wave to us in recognition as we finish a run. Running for Bates has been a fantastic experience. I didn't want my time at Bates to completely revolve around running, but I didn't want to abandon running either. Coach Fresh and Goewey understand that we are students first and athletes second. Think about Short Term! We take finals in April and then have until the end of May to just take one class and focus on track. Where else can you do that? The fact that Bates has one of the best running programs in the country is almost irrelevant when you look at the quality of the people on the team. We are a very close group and really a family. The degree of the team's closeness was something that I did not see in a lot of other schools I looked at. 

Graham "The Grahaminal" Raymond '08

Bates is a great place to go to school and compete in athletics. The first reason I love being on Bates sports teams is the enthusiasm that all of the athletes have for their sports. I haven't met a single Bobcat who doesn't love going out and competing, regardless of the sport. Maybe that's because of our D-3 status; everyone who plays anything plays for the love of the game. The second reason is the type of people that you meet while on a Bates team. From Drabo's love of economics to McNeil and Noah's love of Chinese Food, I have learned from everyone here. Finally, although Bates is a small school, we work hard enough to compete with anyone in the country. I chose Bates, among other reasons, because it gave me the opportunity to play football and run track at the next level. At many other schools, I would have had to choose between the two. Bates is a great place to go to school and the athletic experience you will have here will make it that much more rewarding. 

Alex Whalen '08 (Pappy)

I came to Bates due to the campus environment and openness of the team. Knowing that Coach Fresh and Goewey could mold me into the best runner I could possibly be was also a large factor. Bates is a place where I knew I could excel in both academics and athletics. Both nationally ranked and full of challenges, I could ask for nothing more. 

Matt Capone '07

The way I came to choose Bates is different than most on the team. I came in planning to focus on playing football and running track as a secondary sport as I did in high school.  I looked at most NESCAC schools as I began my college search, but as I got further along I decided I wanted to stay in Maine for college. For whatever reason, I had never gotten a good vibe during my visits to Bowdoin so my choices narrowed further to Bates and Colby. I liked both football staffs equally, so it really came down to which track program I liked better. Coach Fereshetian blew me away with his knowledge of the sport and with his experiences, and my choice was made. Once I got to Bates I didn't immediately know that I had made a great decision. However, things really turned around for me when I decided not to play football after my sophomore year and to instead just focus on track. The track staff improved dramatically when Jay Hartshorn was hired to coach the women's program, and the men and women's teams began to share resources within the staffs unlike ever before. The one-on-one time that both Coach Fresh and Coach Jay were able to give to me helped me get to a level I never thought possible. Following my running career here, I'm now able to be at Bates for another year and give back to a program that gave me so much. The quality of the student-athletes that have been in our program over the years is second to none. This institution and this school have given me so much in the past 5 years; I can't think of many reasons why prospective students should not choose Bates.  Academically and on the track and trails, you'll be given the opportunity to set and achieve nearly all of your goals.

Steve "Franchise" Monsulick '07



When I visited Bates it felt like home. Ever since I stepped foot on campus I always felt welcome and the people have always been friendly. Coach Fresh and the cross country team were incredibly nice on my visits during my college search. We are a very competitive team but we also have a lot of fun - we have time to balance both our academics and social life. I've cherished every moment here and I know that after I graduate I will look upon these years as the best of my life.

Sam "Mia" Murphy '07

I came to Bates with the intention of running but I had no idea I'd do it for all of my four years. That is a credit to our facilities, our coaches, but mainly to the guys on our team. When you are doing a hard workout, it's great to know your friends and teammates are suffering just as much as you, and that is a real pick up.

Sam Thomas '07

I chose Bates over larger state schools like UVA and William and Mary primarily because I could play soccer and run more competitively at the Division III level. I just wouldn't have been successful at that level. A smaller school like Bates also provided me with much more personal relationships with professors and coaches. Lastly, I liked Bates' uniform campus style and how tightly knit it was. 
Matt Biggart '06 (Matty B)

I chose bates becuase I felt most at home here. Other schools required a certain reputation or image to fit in with the crowd. During my tours and visits to Bates, everyone was much more accepting and friendly. After spending three years here, I've found that Batesies judge not on image but on character and personality. While Bates has an incredible academic program, a diverse atmosphere, and an excellent track program, its people are the school's most valuable resource. Running at Bates was a great fit because it allowed me to balance my pursuit of academic and athletic achievement. Our coaches are committed to helping the team achieve athletic success but emphasize that we put our academics first. Once I started running here, I found the team was friendly and accepting. The only fitting way to describe the team is as a family. I've made lifelong friendships here and I'll cherish the experiences here for the rest of my life.

Joel Colony '06

I chose Bates for two reasons. SATs are a waste of time for those who are studying hard in high school and Bates recognizes it. In other words, my SAT scores weren't stellar. Also, I met many extremely friendly and outgoing students while on my visit to campus. Before I graduated from high school I had heard depressing stories from friends who played sports in college. They claimed that sports had ruined their college experiences and had prevented them from enjoying a well-balanced college life. I can understand that considering these were friends at Division I. I decided to avoid sports at Bates and instead to focus on my academics. I'm so glad that I didn't stick to that plan, because I know that I could never of had as rich an experience without sports in the equation. Academics and athletics should never be seen as opposites in constant conflict. It doens't have to be one or the other. In fact, at Division III, athletics and academics enhance one another. I began to play club rugby during my freshman year. My coach thought I showed promise, so he encouraged me to join the track team to sprint and improve on my speed. I hadn't run track ever in my life. After hearing great things about the guys on the team and discovering that they didn't have cuts I gave it a try. It was a perfect fit. I found my teammates to be true competitors. I also quickly developed the utmost respect and admiration for my coach. Coach Fresh knows his stuff. He runs a fantastic program with a long winning tradition. I quit rugby in order to focus on track. It turned out to be the right decision. Track was truly an essential piece of my four years at Bates College. A lot can be said about students who make the best of wherever they end up, but at Bates College there's no need to convince yourself that you're enjoying it, because you are. The greatest part of being a Bobcat is thatyou can sense how fortunate you are to be there while you're actually in the middle of it all.

Dan Johnson '06 (Little Dan)

When looking for colleges I wanted to find a place that had an even mixture of academics and athletics - a place where both mentors and friends could be made. Above all, I wanted to find a place that I could call home and leave after four years with a quality education and cherished memories. Bates was one of many schools that I looked at, but from the first time I set foot on campus I knew that this was where I wanted to go to school. The Bates cross country guys were the first group of people that I met on campus and I found them to be the eccentric and fun loving group of individuals that I am proud to call my friends. As a senior I will never forget all the times spent with each and every person on the team and how important each and every one of them is to me. Many of the friends I made on the cross team will be lifelong friends. Another important aspect of Bates is the balance between athletics and academic. Coaches and teachers both understand the conflicts between sports and classes, and they work together with the students to meet their needs. At Bates I was able to pursue my interest in Biology while having a great time running. Bates helped to improve my time management skills by balancing sports with academics. All in all Bates is a great place. Aside from being one of the best liberal arts schools in the nation, Bates has a proud history of athletics. Going to Bates was one of the best decisions I ever made.

p.s. I also came to Bates because of a certain Joel Anderson 

Joel Anderson '05

Being a student-athlete at Bates has been the most rewarding part of my college experience. Throughout my four years, I have been constantly impressed by the quality of the educational program Bates offers. Moreover, I have had a chance to become great friends with a wide variety of people on the team. 

Joe Northrup '05

Why Bates? Why not Bates? The students are for the most part down-to-earth and unassuming, the academics are great and the teachers are truly committed to their students. As far as track and field, I can think of no better coaching staff or team than the Bobcats. At meets, at practice, on the weekends and all over campus the team felt more like a family than anything else. I made some of my best friends on the team and would never trade my experiences while running at Bates for anything else. The team was probably the tightest knit group in the NESCAC and the coaching staff is the driving force behind the success and the closeness of this team. I was an un-recruited, unmotivated, and for the most part untalented runner out of high school and from the dedication and hard work of Coach Fresh and the rest of the coaching staff I left Bates a three time all-American. And this is not a rare case for Bates track and field. From distance runners, to sprinters to throwers the coaches at Bates know how to motivate and inspire greatness out of common athletes, which is an attribute that few programs in any division can boast. 

Malcolm Grey '03

Running at Bates was one of the greatest experiences of my life. At Bates College you are already in a place with amazing people all striving to better themselves while having the time of their lives. The Bates running program multiplied that experience. Not many people can understand it but some of the best memories of my life will be lying on the indoor track after running many miles in the cold dark snow of Maine and sharing my salt and sweat with best friends.
Mike Danahy '00

The best part of running cross country and track at Bates was the camaraderie, first and foremost. During my four years, we had fun as a team. We never took ourselves too seriously, and had fun at practices and meets. That said, we were not a bunch of slackers; we worked extremely hard in those practices and meets. But, being able to finish a fast mile interval and then laugh and tell jokes during the rest interval takes the edge off working so hard. My fondest memories and accomplishments at Bates are hands-down our 10th place finish at the 1999 Cross Country NCAA Championships and our (and Bates' only) 1st place finish at the 2000 NESCAC Track and Field Championships. These meets meant so much because they were team accomplishments, and proved that a team can be close, have fun, and have great accomplishments. As for Bates in general, the thing that struck (and still strikes me) about the College is that Batesies are honestly "nice" people. The whole foundation of the College is being egalitarian and open. Thus, from the moment I walked on campus, people were welcoming and warm. Now this does not mean that Batesies have phony smiles, far from it. It means that the students and faculty place little value on wealth and academic pedigree. Batesies value knowledge and ideas above all else. And since we all have the potential to be intelligent (even wise), it follows suit that Bates should be a place that welcomes (and is welcoming to) everyone who wishes to enroll.
Tom Leonard '78

We ran at Bates for pride in the team, the school, and ourselves. Racing for Bates was a kick. The home course was on campus with a start and a finish near the football field. The William Tell Overture blasted from dorm rooms and we fed off of it as we ran. Spectators only had to open their dorm windows to watch the race and support the team. I always felt that we were representing the school as well as our team. It really was a special time.
Steve Mortimer '72

What I liked best about Bates running was, without a doubt, Coach Slovenski and all the guys. I have lifelong memories and friendships due to running for Bates. Additionally, I learned a ton from my teammates and Walt in terms of how to train, especially the toughness that one needs to be competetive ("the hill is your friend"). "Graveyards" (8 x 1 mile on a hilly figure-8 dirt road in a cemetery, typically at 4:40 or so pace), hill repeats, and negative split 15 milers prepared me well for running...and life. I reached my running peak in my lage 20s/early 30s, but much of my training was patterned off what we did at Bates, and I in turn have shared that information with many others over the years. Of course, all the guys who comprised the team during my four years will remain in my heart always, and thankfully, many of us stay in touch to this day...35 years later. What I liked best about Bates College was the fact that it was so easy academically (kidding!). As an economics major, I learned a great deal about basic business concepts and critical thinking, and this held me in good stead in grad school and also in my future role as a senior exec in the business world. Of even greater value was learning to seek and embrace alternative perspectives. Most of all, though, I loved skiing in the winter and Range Pond in the warmer months! The campus has changed immeasurably since I graduated, and luckily, I live 20 minutes away and can take advantage of all that Bates has to offer...without doing any homework or taking any exams! I greatly enjoy the athletic complex, outdoor track, Olin Arts Center, and the many other offerings at Bates.
Facilities
Cross Country
Indoor Track
Outdoor Track
Pineland Farms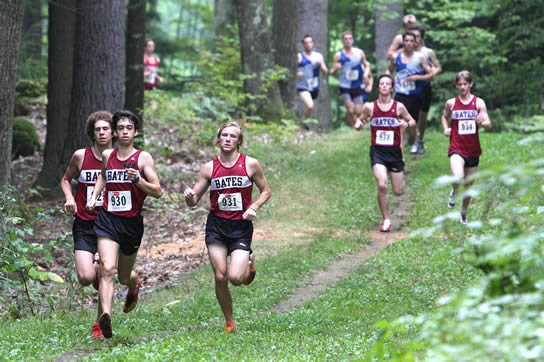 Pineland Farms in New Gloucester, Maine, is where Bates holds its home cross country course. Pineland is a beautiful campus, where most recently the 2007 State of Maine Championship was held. As a team, we often travel to Pineland once or twice a week to do both long runs and workouts. Assistant Coach Todd Goewey also works at the Collaborative School, which is located at Pineland. The drive to Pineland is a pleasant 25 - 30 minute travel.
Walter Slovenski Indoor Track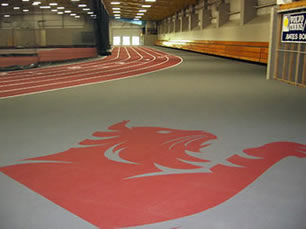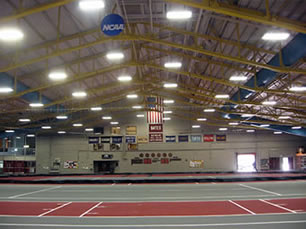 The Merrill Gymnasium is home to Bates' Walter Slovenski Indoor Track. Newly renovated in the summer of 2008, Bates College is home to one of the absolutely fastest tracks in the northeast. The new track is covered with a "Super Mondo X" surface, the latest and greatest in track surfaces. The track is six lanes wide. The track also has a state of the art throwing circle, enlarged so athletes can practice the 35-weight throw, the shot put, and even the discus indoors. The new facility is state of the art and is sure to be the envy of rival schools.
Russell Street Track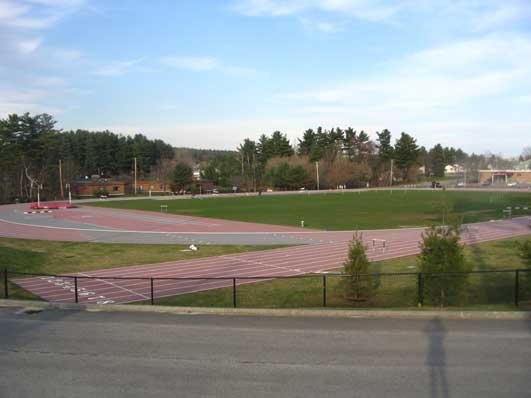 Combined with Pineland Farms and the Walter Slovenski Indoor Track, the Russell Street Track makes Bates College home to the best cross country and track and field facilities in New England. The Russell Street Track is an 8-lane Super Mondo X surfaced track, complete with a coverable steeplechase water hazard, long jump and triple jump pits, a state of the art throwing circle and cage, and a pole vault runway. The wide turns make the track one of the fastest in the region.