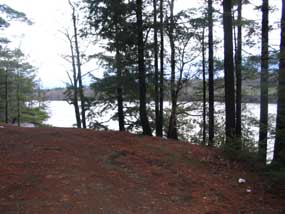 River goes out on central ave, loops around stetson road and main st, and then heads into a few miles of trails along the 'Scog. After crossing a stream, where deft maneuvering is key, the run comes out in Riverside Cemetery and heads back to campus.
During the winter when the trails are covered with snow, we run Mid-River instead. Mid-River follows the beginning of the run, and then instead of turning into the trails, goes behind a Mobil station and comes back to campus on college street. A bit less exciting than River, Mid-River's highlights include running past an elementary school, a bowling alley, and a field.
One can do another abbreviated version of River, River Out and Back, by doing River backwards and then turning around at the beginning of the second part of the trails, just past the apartment building. This is a good option for those who need a short, flat, soft recovery run.