GRAY, ME - Bates College hosted the New England Small College Athletic Conference Cross Country Championship on Saturday, November 1, 2008, at Pineland Farms in Gray, Maine. Williams College won the men's 5 mile championship race for the third year in a row, with a score of 44 points to runner-up Trinity's 85 points. Following close behind was Amherst College with 93, defending NCAA New England Regional Champions.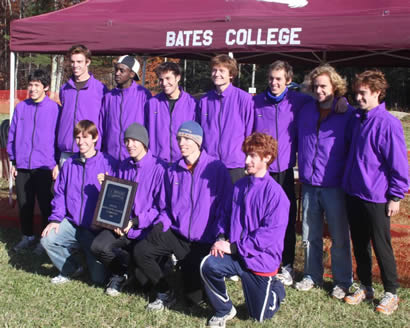 Williams was led by a second place finish from junior Edgar Kosgey, who finished in a time of 25:42. The Ephs displayed their strength by placing four runners in the top 11, all of whom earned All-NESCAC distinction.
Trinity College was led by seniors Hunter Norte and Sam Moorehead, who finished 4th and 10th places, respectively. Norte, the 2006 NESCAC Cross Country individual champion, was selected to the All-NESCAC team along with Moorehead.
There was little surprise as to who would claim the individual crown. Four-time NCAA Division III national champion Peter Kosgei of Hamilton College won the race for the second straight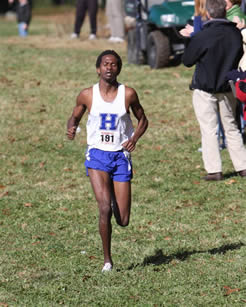 time. Kosgei, a native of Kepsabet, Kenya (the same area as Bernard Lagat), placed second last year at NCAA Divsion III Nationals for cross country, and is the heavily favored pick for this year's winner. Last year, Kosgei placed 2nd at the Penn Relays in the 3,000m Steeplechase, running a time of 8:43, the fourth fastest time last year for any collegiate runner in any division. Kosgei's time of 25:07 destroyed the former coures record at Pineland, held by Curtis Wheeler of the University of Southern Maine. His time was 35 seconds faster than his closest competitor, Edgar Kosgey of Williams.
Following Kosgei was a fierce battle for second between Williams' Edgar Kosgey and Tufts' Jesse Faller. Kosgey edged Faller out at the line, 25:42 to Faller's 25:43. The top 14 individual finishers at the NESCAC meet receive the honor of All-NESCAC, with the top seven being named to the first team, and the next seven being named to the second team. The All-NESCAC first team consisted of Kosgei, Kosgey, Faller, Hunter Norte of Trinity, Jeff Perlis of Williams, Brian Murtagh (brother of Bates' own Chris Murtagh) of Connecticut College, and Nick Welch of Tufts. The second team was comprised of Shawn Mulcahy of Connecticut, Brendan Christian of Williams, Sam Moorehead of Trinity, Anthony Raduazo of Williams, Michael Schmidt of Middlebury, Daniel Murner of Amherst, and Eric Holaday of Amherst.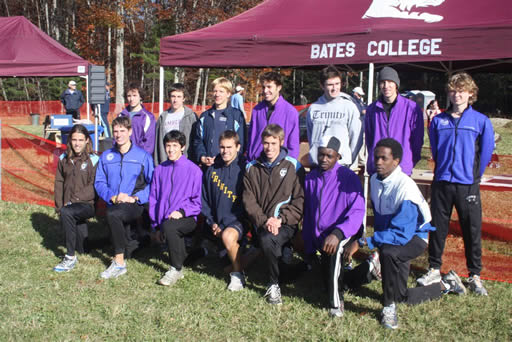 The Bates men's team finished 10th overall with a score of 216, only 14 points away from Wesleyan and 17 points behind Hamilton. Sophomore Devin Dilts was the first Bobcat to cross the finish line again, finishing in 23rd place with a time of 26:34. Following Dilts was junior Doug Brecher in 30th with a time of 26:50. Continuing his impressive freshman campaign was Troy Calandra, third for Bates once again with a time of 27:11. Rounding out Bates' top seven were freshman Sean Colligan (27:39), Tom Esponette (27:48), senior Dillon Tung (27:51), and sophomore Peter Gurney (28:26).
Peter Gurney once again had an exceptional race. Improving drastically over his race at State of Maine's, Gurney accomplished his season goal of scoring by running as Bates' 7th man. His time of 28:26 was a season and lifetime PR, run on one of the hardest courses of the season. Close behind Gurney was sophomore Joe Musso and senior captain CJ Murray in his second race of the season. Musso, along with Gurney, saw the greatest improvement on their races at States. Musso's time of 28:36 also equated a lifetime and seasonal PR. Murray, who finished together with Musso, also equated his seasonal best.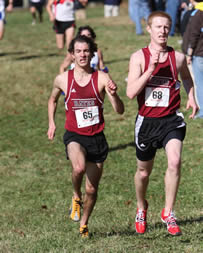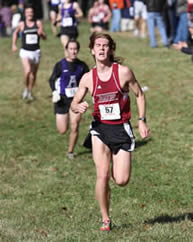 Naoki Kakuta also recorded his seasonal best at NESCAC, running 28:52 on a hillier, muddier, and longer course than his previous best at Twin Brook Park two weeks ago. Bates was very excited and proud to host the NESCAC Championships at Pineland Farms, and we look forward to the next time we get such an opportunity.
Bates will race next at the ECAC Championship at Colt State Park in Rhode Island next Saturday.