CUMBERLAND, ME - Led once again by sophomore transfer Devin Dilts, Bates placed 3rd at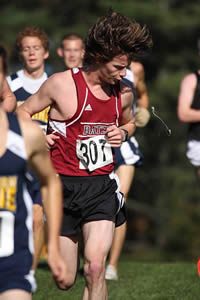 Saturday's State of Maine Championships, hosted by the University of Southern Maine at Twin Brook Park in Cumberland, Maine. Dilts placed 3rd overall in his most impressive race this season, behind event winner Tyler Jasud of USM and Bowdoin's Thompson Ogilvie. Dilt's time of 26:03 was almost faster than his time at Franklin Park last week, and was run over a much more challenging course.
Leading the charge up front was junior Doug Brecher, who finished 7th overall in a time of 26:20, making his way onto his first all-state team. Close behind Doug was freshman Troy Calandra, finishing 9th and in 26:27, narrowly missing the all-state team. Sophomore Tom Esponette proved that he's not leaving the top five anytime soon, finishing 4th for Bates in a time of 27:01, besting his PR last week by a second and finishing 15th overall. Freshman Sean Colligan was 19th in 27:10, followed by senior Dillon Tung in 24th place with 27:35, and finally fellow freshman Ben Chebot in 28:18. Chebot managed to crack into the top seven again after a less-than-great race last weekend. His time was about 30 seconds faster than at Franklin Park.
Picking up the slack behind the top seven was Peter Gurney, who smashed his time from Franklin Park last week. Peter finished 8th for Bates in a time of 28:27, setting a new PR in the process. Peter ran exactly 30 seconds faster on the much hillier Twin Brook than he did at Opens last week. Behind Peter was another solid effort from Joe Musso, who came close to his Franklin Park performance, finishing in 28:44 for 9th man. Naoki Kakuta had a huge race at States. Naoki ran 29:00, about 40 seconds faster than last week. Senior Tim Natriello also had another solid race, finishing in 29:06.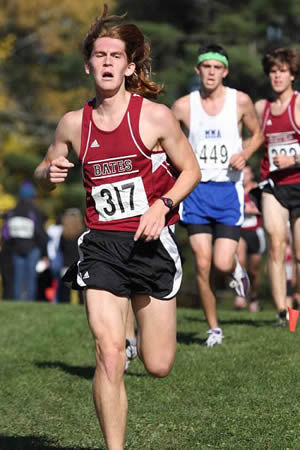 Sophomore Tristan Black-Ingersoll bounced back from what was clearly not his best race at Franklin Park. Tristan ran 30:20 at Open NE's, but came back to run a 29:47 at States. Kevin McDonald also ran a solid race, breaking 30 minutes for the second straight time, finishing just ahead of Tristan in 29:41.
Overall, Coach Fresh was very pleased with how the team ran. Up front, Bates ran great. Devin had what was probably his best race of the season so far. It goes without saying that Doug also had his best race, cracking into the top seven at States for the first time. Troy, Tom, and Sean all showed that they were definitely varsity material. As a team, Bates finished 3rd with a team score of 52, ten points behind USM's 42, and 18 behind meet champions Bowdoin's 34 points. Overall the meet was very close, and a lot of exciting things happened throughout the race. Bates will race next at NESCAC Championships, which we will be hosting at Pineland Farms in two weeks. This will be the most exciting race of the season thus far, as Bates will be putting its best team this year on the line at its home course. Check back for pictures soon.