BOSTON, MA - Bates placed 31st out of 47 competing teams at Open New Englands Saturday at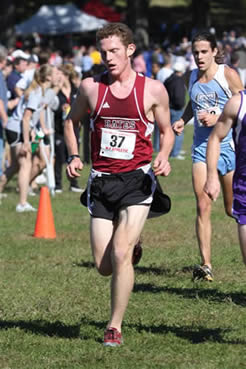 Franklin Park in Boston, MA. Leading the way upfront was Devin Dilts once again, setting a PR in the process, running 26:00 to place 79th in a field of over 300 runners across Division I, II, and III. Close behind Devin was freshman Troy Calandra, who ran an equally impressive 26:13, also a huge PR. Troy finished 97th, meeting the very impressive benchmark of finishing in the top 100 as a freshman. Rounding out the top three was sophomore Tom Esponette, who also had a fantastic race, running a lifetime PR of 27:02. Tom's impressive efforts over the past few races have really cemented his place in Bates' top 5 this year.
Freshmen Peter Corcoran and Sean Colligan also scored for Bates, running 27:19 and 27:22, respectively. Dillon Tung was Bates' sixth man in a time of 27:44. Ben Chebot also competed in the varsity race, running a time of 28:43.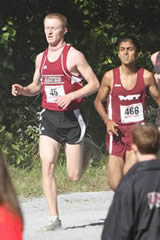 In the Sub-Varsity race, a number of very exciting things happened. First and foremost was the return of senior captain CJ Murray, who competed in his first cross country race since State of Maine's last year. CJ would have been Bates' 7th finisher if he was in the varsity race, as he ran an impressive debut time of 28:02 to round out the top seven. Behind CJ was sophomore Joe Musso and senior Tim Natriello, who both ran massive PRs. Musso finished in 28:27, almost three minutes better than his previous best time, and Natriello was close behind in 28:48, about 3:22 better than his race at Wesleyan two weeks ago. It was the first time either Musso or Natriello had ever finished in the top 10 for Bates, pulling 8th and 10th places for the team, respectively.
Bates races again in one week at State of Maine Championships at Twin Brook Park in Cumberland, Maine.