PORTLAND, ME - Matt Dunlap '08 placed second overall in his marathon debut on Sunday at the Maine Marathon in Portland, ME, running 2:36 to average a pace of 5:59 for 26.2 miles. Dunlap, captain of the '07 and '06 cross country team at Bates, as well as a two-time national qualifier, was the first Maine runner to finish, playing second fiddle only to Art Siemers (2:28) of Golden, CO, who was a 2004 Olympic trials marathon qualifier.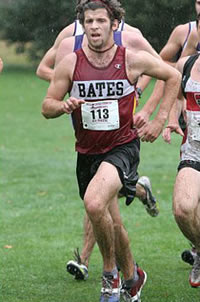 Racing in the half-marathon were two more Bates alumns, Matt Biggart '06 and Patrick Wales-Dinan '05, who both finished in the top 15. Biggart placed 7th overall with an impressive time of 1:14:43, averaging 5:43 pace for 13.1 miles, and Wales-Dinan was 15th in 1:18:09 to average 5:58 pace.
Carrying on the excellent tradition of competitive running, Dunlap, Biggart, and Wales-Dinan have shown that being a Bates runner stays with you even after you graduate. On behalf of the team and everyone associated with it, congratulations.
For full results, click one of the following: marathon - half marathon
Pictures and personal accounts to follow shortly.