MIDDLETOWN, CT - Through hell and high water, Bates found itself a third place finish at the Wesleyan Invitational in Middletown, Connecticut, this past Saturday. With Hurricane Kyle moving its way up the east coast, the 8k Wesleyan course was ravaged by torrential rain and a stampede of runners. Host school Wesleyan University won the meet with 43 points, and in a surprise appearance Connecticut College took second with 45 points. Bates was third with 68 points. Devin Dilts once again led the way with a 5th place individual finish, running a time of 27:13. Freshman Sean Colligan moved his way up into the second man position, running a time of 27:42 for an 11th place finish. Behind him was Doug Brecher, Sauce, and in one of the best improvements of the day was Tom Esponette finishing 5th for Bates and 21st overall, with a time of 28:28. Rounding out the top seven were Troy Calandra and Ben Chebot.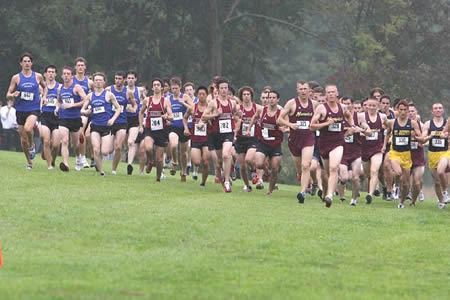 The team had high expecations entering the meet, especially after a strong performance at the Tufts Invite two weeks ago. However, a range of factors played into the ultimately disappointing third place finish. Of obvious note was the weather, which clearly slowed times immensely. The course was extremely sloppy, especially down in the woods section. Sharp turns became mud slides, making it almost impossible to take them without "drifting". Other parts of the course, especially the steep hill coming out of the woods, became extremely slippery, and the 3/8 inch spikes we put in were clearly not long enough. Aside from the weather, a few runners had individual problems that played a significant impact on how the race went. Coach Fresh said at the end of the day, "Wesleyan and Conn ran great races, they raced how we wanted to race." However, although a disappointing result, he was quick to point out a number of glaring improvements.
Through the awful conditions, a number of runners were able to run their best times for the season, and for a few even lifetime PRs. Sauce saw a great improvement from his Tufts race, which at the time was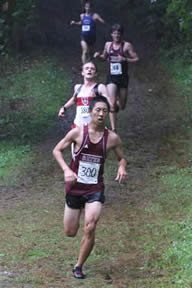 his 8k PR. Despite the conditions, freshman Luke Harmeling, Kevin McDonald, Joe Musso, Michael Watson, Al Stewart, Tristan Black-Ingersoll, and Peter Gurney were all able to run faster than their seasonal best. Moxies went out to all these people and others who, despite the hindering conditions, were able to go out and run with guts.
After the race the men's team cheered on the girls team, and then proceeded to make some order out of the chaotic mess the torrential downpour had caused. We headed back to the bus and eventually went over to Wesleyan's field house, enjoyed some intercollegiate bonding by showering with our fellow competitors, and then headed back to school. Although it poured the whole ride back (and a few unlucky people got dripped on the entire ride), spirits were generally high thanks to Watson's choice of Teenage Mutant Ninja Turtles 2, and the anticipation of the Girl Talk concert back at Bates.
The men's team will have this next weekend off for Parents Weekend, and the following Saturday we will compete at Open New Englands at Franklin Park in Boston.