NEW GLOUCESTER, MAINE - Doug Brecher earned his second collegiate cross country win at Pineland Farms in a duel meet against Bowdoin College. Brecher crossed the line in 26:21, just one second in front of co-captain Devin Dilts who finished second. Sophomore Sean Colligan was edged out by Coleman Hatton of Bowdoin, and finished fourth in a time of 26:47, a huge PR.
Bates ran excellent up front, however Bowdoin was unfortunately able to put a strong pack of four runners between Colligan and Bates' fourth man, Troy Calandra, who finished 9th overall in a time of 27:20. Bowdoin showed their depth again by placing another three between Calandra and first year Ryan Rice, who was 13th in a time of 27:30.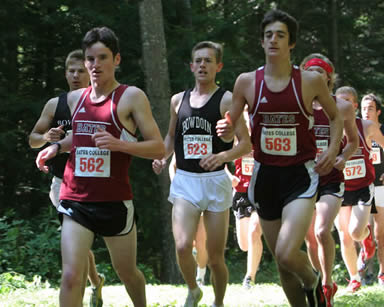 Bates was able to show it had significant depth as well. Rice led a pack of eight Bates runners who only saw one Bowdoin runner split them in half. Junior Peter Gurney turned in a huge PR, running 27:32 for 14th place. Filling in the next two spots were Tom Esponette and first year Eric Kimball, with times of 27:43 and 27:44 respectively. Bowdoin runner Sam Frizell was the only thing standing between Kimball and a second pack of four led by first year Ken Whitney, who ran 27:48 in his first major contribution to the Bates squad. Following Whitney in succession were first years James Lepage (27:52) and Graham Pearsall (27:59), followed by returning senior Conor Welch (28:05).
The race was scored in an unusual manner, scoring 10 runners deep with the 11th and 12th runners on each team displacing. Following this formatting, Bowdoin scored 101 points to beat Bates at 111 points. However, Coach Fresh was quick to point out that if you scored this meet like a traditional duel meet, Bates would have won 28-29.
Bates will be competing at the Codfish Bowl Invitational next weekend at Franklin Park in Boston, Mass.