WILLIAMSTOWN, MA - After spending almost all of the season flying under the radar, Bates Men's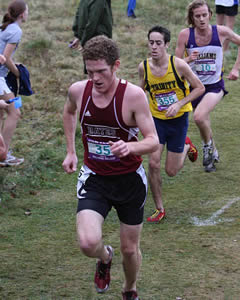 Cross Country pulled out a 13th place in what is arguably the deepest New England region cross country has ever seen. Sophomore transfer Devin Dilts brought his first ever season of cross country to a stellar end, leading Bates with a 25th place finish (26:57), capturing All-Region honors. Dilts has led Bates at every cross country meet this season, and was the second sophomore in the New England region on Saturday.
Just behind Dilts was junior Doug Brecher in his best race by far this season. Overcoming an early season injury, Brecher closed his last mile in 5:08, moving up in the field from the fifties to finish 36th overall, missing his chance to repeat his All-Region status last year by one tenth of a second.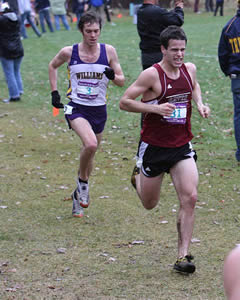 Following in succession behind Dilts and Brecher was sophomore Tom Esponette, who ran a time of 27:51 to set a 40 second PR on the Williams course in wet and sloppy conditions, good for 73rd place. Next was the duet of first years Troy Calandra (94th) and Sean Colligan (102nd), running 28:20 and 28:24 respectively.
Bringing an end to a solid Bates collegiate cross country career was senior Dillon Tung (115th), whose time of 28:34 was right behind Calandra and Colligan. This race was Tung's second time running on the Bates regionals team. Rounding out Bates' top seven was sophomore Joe Musso, placing 147th in 29:23. Musso stepped in for first year Peter Corcoran, who was supposed to run but was held out for an injury.
Bates placed 13th with 330 points, just between Coast Guard and Springfield. Bates improved on its NESCAC finish, topping rival Wesleyan by 50 points. Coach Fresh was pleased overall with the way the team stepped up at regionals, despite a number of injuries and poor conditions. With only one senior in the top seven, followed by one junior, three sophomores, and two first years, the young Bates team looks to improve significantly next year. With one of the largest recruiting classes in years coming in next year, expectations will clearly be high as Bates hopes to take its place amongst the dominant teams in New England.