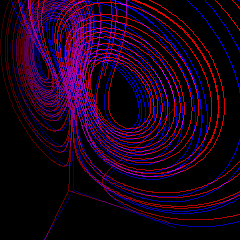 To see the Lorenz attractor in 3-D, you'll need a pair of special 3D glasses. These glasses have a piece of RED film which will cover the left eye, and BLUE for the right. (For example, such a pair came with the August, 1998, issue of National Geographic for their article on Mars).

When you look at any object, each of your eyes takes in the scene from a slightly different viewpoint. Your brain puts these slightly different views together into an image which seems to have "depth": you perceive that parts of the object are close to you and parts are far. So we draw the Lorenz attractor twice on the screen from two slightly different viewpoints. One is drawn for your left eye to see, and it's drawn in RED. The blue filter over your right eye will effectively prevent your right eye from seeing the left eye's image. Similarly, the image meant for your right eye is drawn in BLUE, and the red filter over your left eye keeps your left eye from seeing it. If all goes well, you should perceive the Lorenz attractor in 3D: Part of it will appear close to you, actually out in from of the screen --- try to "touch" it (locate its position) with you finger. The middle of the closer spiral should seem to be just in front of the screen's surface, and the rest of the attractor will appear to be behind the screen, especially the upper left corner. If you drag your cursor over the image, it will seem to be in front of some parts of the attractor, and behind others.

Click here to see an animation as we rotate this 3D image part way around the z-axis.