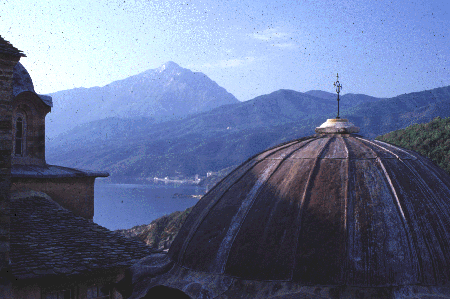 The Robert W. Allison Research Pages
© Robert W. Allison
Bates College
Lewiston, Maine, U.S.A.
and
The Patriarchal Institute for Patristic Studies
Thessaloniki, Greece
---
Out of deference to the wishes of the Holy Fathers of Philotheou Monastery, the publication of research work related to the monastery and under the Monastery's name has been removed from the World Wide Web. The Monastery continues to support the project, and together we look forward to publication of much of this work in the near future. I, personally, am understanding of their wishes, and deeply appreciative of their long support for this work. Persons who have followed the development of this project over the past decade and wish to keep up with its progress --
The Catalog of Manuscripts
Historical Studies of the Monastery and its Library
Progress Reports
are invited to communicate directly with me at the addresses listed below. In keeping with the terms of my research grants from the National Endowment for the Humanities, copies of manuscript descriptions will continue to be available for purposes of scholarly research on a pre-publication basis upon request, and inquiries about the as yet undescribed manuscripts are welcome.

Information still available from this site includes:
The Patriarchal Institute for Patristic Studies

The former pages created by R.W. Allison as a service to the Patriarchal Institute have been closed since the Patriarchal Institute now operates its own website.

Methodological Papers

Information on new developments in the methodology of

descriptive cataloging
description of liturgical books
analysis and description of paper used in Greek manuscripts
computer enhancement of watermark images
use of evidence from paper for dating, identification of scribes and identification of centers of book production

Archive of Watermarks and Papers in Greek Manuscrits

A project to create an electronic archive of watermark prints and database of paper descriptions for papers in Greek manuscripts. Begun as a means of publishing the catalog of papers in Philotheite manuscripts, it has been expanded into a research tool for study of papers in Greek manuscripts everywhere and a centralized medium for their publication. The Watermark Archive is the product of the cooperative work of a number of Bates College students working with Professor Allison and supported by funds from the College, the National Endowment for the Humanities, and the Dupont Corporation. This site continues to exist as the model for its successor project, the Watermark Initiative, and as a repository of methodological and other resources for persons interested in the study of paper and watermarks in medieval manuscripts.
In addition, this server is the World Wide Web home to The Friends of Mount Athos, a society established in 1990 of persons who share a common interest in the well-being of the monasteries of Mount Athos. Maintained here on the home page of the Friends is
---
Created by Robert W. Allison
Dept. of Philosophy & Religion, and
Program of Classical and Medieval Studies
Bates College, Lewiston, Maine 04240

Responses may be addressed electronically by e-mail to
rallison@bates.edu

Last Updated: February 14, 2000

-- http://www.bates.edu/~rallison/