!NECHA CHAMPS AGAIN!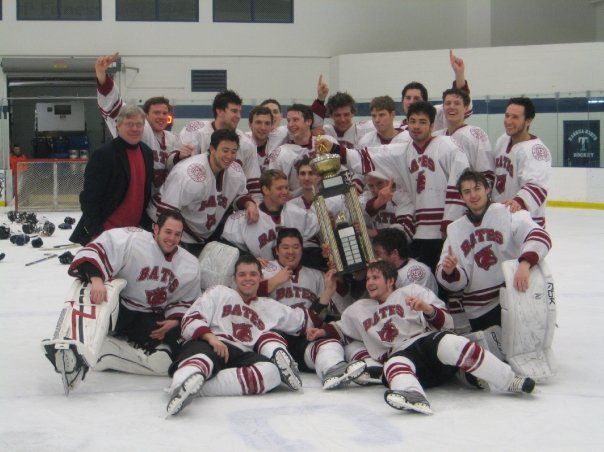 The Bates Men's Hockey Team competes in NECHA (New England Collegiate Hockey Association) a regional division of ACHA D2 (American Collegiate Hockey Association). In 2008 - 2009 we were a part of the Northern Division of the Colonial Conference.
Our current team has been crowned League Champions of NECHA Colonial Conference the past 4 seasons and has won back to back NECHA Colonial Conference Championships: 2 - 1 (OT) vs. Daniel Webster College in 2008 and 3 - 0 vs. Keene St. College in 2009. These were the first hockey championships ever won by Bates College.
Our Division opponents this year featured Lyndon St., Springfield College, Keen State University, and Daniel Webster College, with inter-division games versus Tufts Club, Connecticut College Club, Worcester Polytechnic Institute, Rhode Island College, and the United States Coast Gaurd Academy. Our out of conference games were played against the University of New England and the University of Maine Orono Club.
Our current team members represent significant geographic and experiential differences ranging from San Jose to Maine. Players have played at varying levels including, Midget AAA, Junior B, and competitive Prep and Public High Schools.
We are proud to be coached by former UMaine Black Bear defenseman Tom Leblond, who resides in Lewiston and teaches history at local Lewiston High School. We also welcome this year our new Assistant Coach, Bryan Langlais, a former Northeastern University Club Forward.
Administrative duties are run by the team, and In addition to being on the ice 6 days a week at our on campus rink, Underhill Ice Arena, obligations include fundraising and other team management tasks.
It's a Great Day to be a NECHA Champ.
Home | Schedule| Roster | Statistics | Photos | Contact Us | Links | Webmaster