George Ruff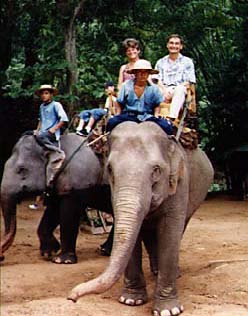 (With my wife Nancy in Thailand!)
Office: 327 Carnegie
Lab: 146 Carnegie
44 Campus Avenue
Bates College
Lewiston, ME 04240

207-786-6322 (office, lab)
207-783-6841 (home)
207-786-8334 (FAX)
E-mail: gruff@bates.edu
I am a professor in the Physics and Astronomy Department at Bates College. I'm also faculty advisor to students in the engineering programs.
In the regular semesters, I teach
During the short term, I teach
My research is in atomic and laser physics, especially the study of ultracold atoms in magneto-optical atom traps. A thesis student, Amy Sullivan, and I recently developed an apparatus for simultaneous trapping of two kinds of atoms, so we can study collisions between ultracold atom clouds. My favorite web site describing MOT research is that of Phil Gould , who majored in physics at Bates and is now a professor at the University of Connecticut.
---
Other things you'll find at this site: