John McClendon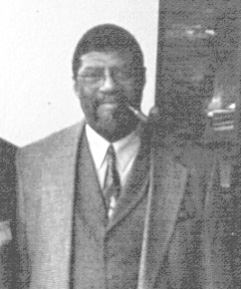 ---
John H. McClendon is Asst. Prof. in. Political Science and American Cultural Studies at Bates College. He formerly taught at SUNY-Binghamton, University of Illinois at Urbana/Champaign, Eastern Illinois University and the University of Missouri at Columbia. He earned his doctorate in Philosophy from the University of Kansas.
His publication include:
Book review of Cinthia Willett's Maternal ethics and Other Slave Moralities in Auslegung Vol.21, No 2. Summer,1996.
Bibliographical entries on Claudia Jones, Lucy Parsons, Elaine Brown in Jessie Carney Smith, ed. Notable Black American Women, book II, Gale Research Inc., 1996.
"The Afrocentric Project: The Quest for Particularity and the Negation of Objectivity" in Explorations in Ethnic Studies (Special Issue Ethnicity: Global Perspectives) Vol.18, No1, January ,1995
Essay -review of Earl Ofari-Hutchinson's Black Fatherhood in The Missourian September, 19, 1992
Perspectives: The Contibutions of Black Missourians to African-American History> booklet published by the Black Culture Center, Black Studies Program (February 1992)
"Afrocentric History: Something New Under the Sun or the Same Old Song". Essay review of Tsehloane's Keto, The African Centered Perspective in The African Americanist Vol.4&5 (1992)
Essay Review of James Cone's Martin, Malcom and America: A Dream or Nightmare in The African-Americanist Vol. 1 (1992)
The McClendon Report, monthly news column in the Soul/Phisticator (1985-87) Dayton, Ohio
The State of Black Champaign County 1984, Champaign County Urban League. Editor and Principal Investigator.
"Eugene Clay Holmes: A Commentary on a Black Marxist Philosopher" in Leonard Harris, ed., Philosophy Born of Struggle: An Anthology of Afro-American Philosophy from 1917 Kendall/Hunt Publishing Co. 1983
"The Afro-American Philosopher and the Philosophy of the Black Experience: A Bibliographical Essay on a Neglected Topic in Both Philosophy and Black Studies," Sage Race Relations Abstracts Vol.7, No 4, ( November 1982)