Brian Pfohl's Homepage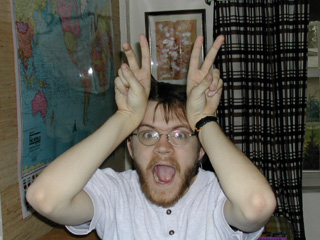 Brian explains the difference between a z distribution and a t distribution to puzzled onlookers.
Basic stats
Office: 357 Pettengill
Phone: 207-786-8314
Email: bpfohl@bates.edu
Department: Psychology
Position title: Assistant in Instruction (A.I.)
Office hours: Monday 9:30-11:30, Thursday 2-4 or by appointment
---
I dabble in image manipulation for fun and profit. Check out my Photoshop nonsense page.
---
FAQ
What in the world is an A.I.?
Many departments at Bates College have AIs, and each employs them for different tasks. In the psychology department, the AI is primarily responsible for working with the Statistics (Psyc218), Research Methods (Psyc261) , and with seniors who are conducting research for their theses. I am available to students outside of class to give help when the professor is not available or when a different perspective might be useful. I also assist the professors in grading quizzes, preparing in-class demonstrations, maintaining websites and gradebooks, and anything else that eats up their valuable time.
What is your background?
I have a Bachelor's Degree in Honors Psychology and German from Vanderbilt University ('95). I did a two-year research thesis (under the guidance of Dr. Andrew J. Tomarken) examining the relation between a certain type of brain wave pattern and subjects' response to failure. After graduating, I got involved in the software industry. I held several different jobs with companies that produce business-to-business software. In my software career I have served as technical support specialist, tester, software trainer, software consultant, webmaster, LAN administrator, technical writer, software designer, software developer, project manager, and staff manager. I lived and worked in Nashville, Colorado Springs and Louisville before relocating to Maine in the summer of 2002. After years of working in corporate america, I'm very glad to have a change of pace and change of career working at Bates.
Will you marry me?
Yes! By which I mean, no. In fact, I got married in the summer of 2003 to the lovely and effervescent math professor Meredith Greer, who also works at Bates. It's not too late to get us a gift, though!
So when are you two going to have a baby?
Have you been talking to my relatives? Well, the answer is "whenever we're good and ready". Turns out that we were apparently ready on or about the morning of July 23rd, 2008. Our daughter is Ellen Elizabeth Pfohl, and you can gorge yourself on baby pictures over at Ellie CentralTM.
What do you do for fun?
I regularly participate in Bates Theater productions. In Winter of 2008 I played Escalus in Shakespeare's Measure For Measure. In Fall 2006 I was Mr. Fitzpatrick in The Skin of Our Teeth. I was the Doctor in the Winter 2005 production of Chekhov's Three Sisters. I played Polonius in the Fall 2003 production of Hamlet. In Fall 2002, I played Lord Augustus in Lady Windermere's Fan. I also sing in the Androscoggin Chorale. In summer of 2007, I was in the Community Little Theater's production of A Few Good Men.
And if that isn't enough (it is!), I am also a Habitat Steward thanks to a training class at the University of Maine Cooperative Extension and the National Wildlife Federation. It's part of the NWF's Backyard Habitat Program .
I'm only reading this because I'm incredibly bored. Can you recommend other fun websites to entertain me until Fate's icy hand removes me from this sterile promontory?
Glad to help! Check out my links page for more mad-capped hijinks.