Adelia Myrick '99  - Kodiak, Alaska
All-American, 1998 Captain, Honors Student, NCAA Championships in 1995,96,97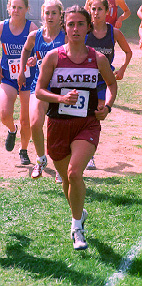 Adelia, a senior captain has been to three NCAA National Cross Country Championships and two NCAA Indoor Track Championships. In 1995 and 1997 she was instrumental in leading the Bates team in qualifying for the NCAA National Championship. In 1996 Adelia qualified as an individual and finished 15th overall earning All-America recognition. In 1998 Adelia was the first finisher for Bates in every race. She earned All-State, All-NESCAC, and All-New England honors becoming the first Bates athlete to earn all these honors in each of her four season at Bates. Adelia's best cross country performance is an 18:17 for a 5K course. In track she co-holds the school record for 1000m at 3:02.57 and has personal bests of 4:44.27 for 1500m, 2:20 for 800m and 10:52.36 for 3000m. Adelia is an honors student in Russian. She spent the short term of her first year in Russia, and the spring semester of her junior year in the Ukraine. Like two of her Bates teammates, Adelia is a twin.
Lauren Nally '99 -
South Dennis, Mass.
1998 Captain, 1997 NCAA's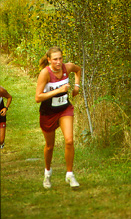 Lauren was a senior captain for the 1998 season. For the last three years Lauren has positioned herself among the top seven runners on the team. In 1997 she was the fifth scorer at the NCAA regional qualifying meet helping the team earn a trip to the NCAA National Championship. Lauren has a personal best of 20:18 on a 5K course. Lauren is a graduate of Dennis Yarmouth High School. A Biology major, Lauren spent the second semester of her junior year in Sydney Australia.

Rebecca Skarbek '99 - Wethersfield, Conn.
1998 Captain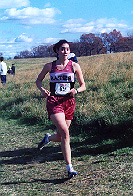 Becky's personal contributions and leadership qualities were recognized by the team when she was elected a captain of the 1998 team. Though she made steady improvements throughout her college career, Becky finished shy of a top 7 position. Her personal record for a 5k course is 21:14. She inspired many of the 25 member squad to work hard and enjoy the team experience each contributing in their own way. Becky is a graduate of Wethersfield High School the same high school that Coach Carolyn Court attended. She is majoring in French and spent the fall semester of her junior year in France.

Jessica Young '00- Thetford, Vt.
1999 Captain-elect, 1997 NCAA's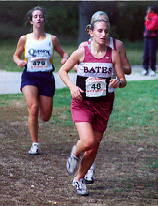 Jess is a junior running on the team her second season. In 1997 she helped the team qualify for the NCAA Championship finishing in the fourth scoring position. A consistent performer, Jess is strongest on hilly courses and in inclement weather. Jess has a personal best of 19:57 on a 5K course. In 1998 Jess finished among the top four for Bates in every race. Jess lived in the Community Service House her sophomore year and raised a black labrador puppy as a seeing eye dog on campus for one and one-half years. A graduate of Thetford Academy, Jess is a double major in Art and Math. She will be spending second semester of the 1998-99 year at the Glasgow (Scotland) School of Art.

Kirsten Tilney '00- Jackson, N.H.
1999 Captain-elect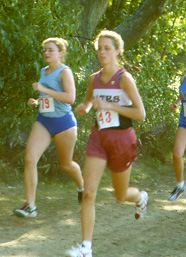 In 1998 Kirsten moved into the top seven for the first time of her career. Established firmly among the top four runners of the team Kirsten set a new personal record each week. Her personal best on a 5K course is 20:17. A junior sociology major, Kirsten will be studying in England the second semester of 1998-99. A graduate of the Holderness School, Kirsten is active in equestrian sports and enjoys alpine skiing.
Tracy Lyford '00 - Portsmouth, N.H.
1999 Captain-elect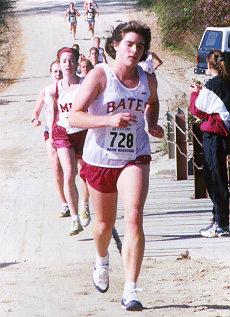 Tracy was abroad in the fall of 1998 but she was so respected by her teammates for her past contributions that she was elected a captain for the 1999 season. Tracy has far surpassed her high school cross country performances in college. Primarily a 600m runner and 400 hurdler, Tracy found hidden strengths in the distance events. She has a personal best of 20:02 for a 5k course. Tracy is a graduate of Portsmouth High school and is majoring in history.
Courtney Elf '00 - Sandy Hook, Conn.
Honors Student, Musician, Dana Scholar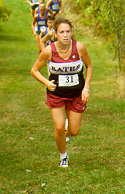 Courtney was a top seven performer for Bates in 1998 until an illness sidelined her at the end of the season. She also has exceptional musical talents and is a Music Composition Major. In her sophomore year as an independent study, she composed 24 flute duets each in a different key and put them into an album. She performed a number of her original works in concert for the Bates Community. Courtney is in the Bates Orchestra and also sings in the College Choir.

Ellen Humphrey '01 - Lexington, Mass.
1997 NCAA's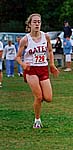 Ellen went from thinking that a 5k race was "long" to qualifying for the NCAA National Cross Country Championship with the team her first season at Bates. Primarily a 800-1500m runner Ellen improved steadily in cross country. Ellen has a personal best of 20:10 on a 5K course, 5:25 in the mile and 2:25 in the 800m. An Economics major Ellen works for the Princeton Review and teaches SAT Preparatory Classes.
Kate Parker '01 - Williamstown, Mass.
All-New England, All-State, Nordic Skier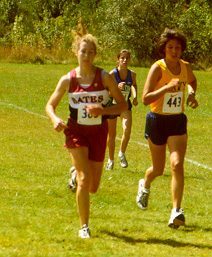 Kate is a sophomore who just completed her first cross country season for Bates. An accomplished nordic skier, Kate decided to use the cross country season to prepare for her winter sport. After just tw o meets Kate had established herself as the second runner on the Bates squad. Surpassing her high school performances, Kate had a season best of 18:47 on a 5K course. Kate finished 7th at the State of Maine Championship to earn All-State Honors and finish ed 23rd in the NCAA Qualifying Meet to earn All-New England recognition. A graduate of Mt. Greylock High School, Kate is planning to major in English. She has an identical twin sister (Beth) also at Bates.
Jamie Smith '01- Portland, Maine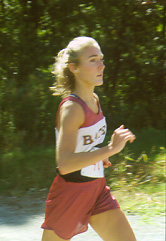 Jamie joined the team for the first time her sophomore year. Early on she surpassed many of her high school marks and by the end of her first season had earned a position among the top seven Bates runners. Jamie graduated from Deering High School. She is a psychology major with an interest in clinical psychology and neuroscience. She is a volunteer at St. Mary's Hospital in Lewiston.

Carly Tarr '01 - West Falmouth, Mass.
Honors Student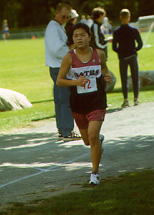 Carly is a sophomore who earned a spot among the top seven runners for the first time in 1998. Her steady improvement through three seasons of track and cross county her first year paid major dividends in both speed and confidence. In some cross country races this fall Carly finished as high as 5th for the team. Carly graduated from Falmouth High School and is majoring in Chemistry/Pre-med. She has worked in the summer at the Woods Hole Oceanographic Institute.
Rebecca Hakala '02 - Sanford, Maine
Honors Student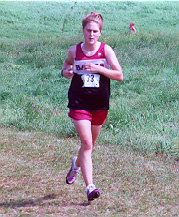 Rebecca is a first year student at Bates who surprised many by finishing among the top 7 for the team in the first meet of the season. Rebecca was valedictorian of her class at Sanford High School. At Bates Rebecca is a member of the Math Council and is a tour guide on campus. Like Myrick and Parker, Rebecca is also a twin.