Jan. 9, 1999

Contact: Adam Levin
Phone: (207) 786-6411
Bates 88, WPI 45
Provident Invitational Tournament
at Worcester, Mass.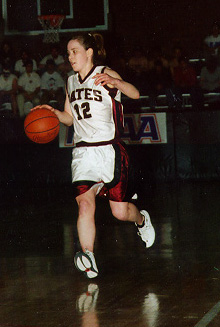 WORCESTER, Mass. - Bates College senior co-captain Colleen McCrave (Walpole, Mass.) became the all-time steal leader among NCAA Division III women tonight as the Bobcats (8-0) routed the host WPI Engineers (6-5), 88-45, in the title game of the WPI-Provident Invitational.
McCrave notched her 10th steal of the evening with 11:06 left on the clock in the second half. It was her 60th steal of the season and the 506th of her career, sending her past Jenn Denby of Rowan University. In just 27 minutes of play, McCrave was two assists shy of her fourth career triple double. She recorded 14 points and eight assists to go with her 10 steals. McCrave, a five-foot-four guard, was named Tournament MVP, averaging 10 points, eight steals, 7.5 assists and 7.5 rebounds in two games.
Also earning All-Tournament honors for the Bobcats was junior forward Emily King (Lebanon, N.H.), who averaged 19 points and 7.5 rebounds per game. Bates, the top-ranked team in the most recent New England Women's Coaches' Association poll, is 8-0 this season, the Bobcats' best start ever. They forced 43 turnovers tonight, extending their streak of forcing 30 or more to eight games. The Bobcats shot a season-high 52.6 percent from the floor (41-78), including a torrid 59.5 percent in the second half (22-37).

Bates (88) - Kate Dockery 1-2-4; Colleen McCrave 7-0-14;  Kate
McLaughlin 4-0-8; Melissa LaPointe 2-0-4; Amy Taylor 4-1-10; Liz
Grace 1-0-2; Sarah Williamson 3-0-6; Jolene Thurston 3-0-6; Katy
Dutille 2-2-6; Emily King 9-0-18; Lisa Dulude 1-0-2; Beth Frissora
0-0-0; Heather Thomson 4-0-8; Val Rosenberg 0-0-0; Kristen Porter
0-0-0; TOTALS 31-16-79.

WPI (45) - Jen Lavin 1-0-2; Lynn Michalenka 3-3-10; Jody Kenniston
4-0-8; Helene Gwizdak 2-0-4; Rachel Zimet 4-0-8; Amy Matter 2-0-4;
Becky Dowd 0-2-2; Beth Gilbert 1-0-2; Jill Murphy 0-1-1; Laurel
Gionet 0-0-0; Erin Jabs 1-2-4; Rachel Maltais 0-0-0; TOTALS 18-8-45.

Halftime:  Bates, 41-18   

Three Point Goals:  Bates - 1 (Taylor)  WPI - 1 (Michalenka).

Records: WPI 6-5, Bates 8-0.
 
# # #
---