Reprinted courtesy Lewiston Sun-Journal
Jan. 16, 1999
MASTER THIEF
Larceny is no crime for Bates guard
Colleen McCrave, the NCAA's career
steals leader and the spark plug
for the top ranked Division III
basketball team in New England
By Kalle Oakes, Lewiston Sun-Journal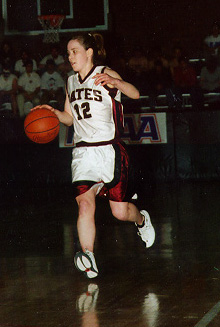 > LEWISTON - Colleen McCrave is a thief and a nuisance to any women's basketball team in her path.
When the diminutive, humble Bates College senior steals the basketball- as she's done more often that any player in NCAA Division III history- she swipes away the opponent's momentum, courage, and every other element that would give an ordinary team a fighting chance to beat the mighty Bobcats.
"She is the most intense, fiery competitor I have ever had the pleasure to coach," said Bates coach Jim Murphy.
In an 88-45 victory over Worcester Polytechnic Institute on Jan. 9, McCrave's 10th steal of the game made her the nation's all-time career leader in that category. She broke the record of 505 set by Jenn Denby of Rowan (NJ) College with no fewer than 16 games remaining in her career.
Of course, Bates' season could last a lot longer than that. The Bobcats, who have advanced to the Sweet 16 last season, are 10-0 and ranked No. 1 in New England.
McCrave hopes to conclude her career with a home playoff game, maybe two. A trip to the Final Four isn't a far fetched finish.
"Most of us on this team expect not to lose," said McCrave. "We want all of our (postseason) games here (in Alumni Gymnasium). At least as many as possible.
Cozy, quaint Alumni Gym may never see a player as dangerous as McCrave pass this way again. In addition to her proclivity for stealing the basketball, McCrave:
- Holds five school records.
- Has contributed to a pair of a school-record 10-game winning streaks in her career. Bates goes for No. 11 at Babson this afternoon.
- Leads her team in rebounding as a 5-foot-4 point guard.
- Has three career triple-doubles.
- Was one of only two players in the nation to finish in the top 10 in assists and steals in 1997-98.
- Scored 69 points in a stellar soccer career.
"Her stamina and work ethic are unbelievable," said Murphy. "CoCo will do whatever it takes to win."
In short, McCrave defines defense. She is never more dangerous that when her opposite number has the basketball.
Learning to steal
McCrave didn't know she had a chance to crack the national record book until Murphy- also the school's soccer coach- brought it up last fall.
"He showed me the numbers during soccer season and I was surprised," McCrave said. "I never expected that. It's really nice to get, but it's not something I ever was shooting for."
Is there a science to the perfect steal? No, said McCrave, although she conceded that there is a technique to it.
One ill-timed swipe can get the prospective burglar onto foul trouble. One quick step in the wrong direction can send the opposing point guard to the basket for an uncontested lay-up.
McCrave sizes up her prey.
"I kind of watch them, to see how they dribble. I figure out which hand is the weak hand," she said. "I try to use my quickness, and when I see an opening, I make a move and try to take advantage of it."
Some athletes are said to be masterful at dissecting film. McCrave is adept at learning on the fly, with the clock ticking in the heat of a close contest.
"I think it's just her anticipation that makes her so good," Murphy said. "She watches. Well, she doesn't just watch. She's always putting pressure on the ball, trying to figure out how to get it."
He knew her when
In the world of big-time college hoops the same can be said for a coach's recruiting technique. Bates is a far cry from that basketball universe.
Recruiting is no simple task at Bates. As the coach of a school in the academically orientated New England Small College Athletic Conference, Murphy cannot offer scholarships. Any prospective student-athlete must make it through a rigorous admissions process. Occasionally, coaches are fortunate enough to inherit a talented athlete who seeks out the university, not vice-versa.
The day Murphy accepted the job at his alma mater five years ago, however, he knew exactly who would receive his first sales pitch.
"CoCo was the first person I called," he said.
Murphy had two years worth of inside information. In McCrave's sophomore and junior years, her Walpole High team traveled to the Boston Garden for the Eastern Massachusetts championship game.
Both times, Walpole met Masconomet, which was coached by Jim Murphy.
"He won the first game," recalled McCrave. "We won the second."
McCrave was Walpole's shooting guard- a complete misnomer. Defensive pest would have been a more accurate job title. She was never far away from the cautious footsteps of the opposition;s best offensive player. In Masconomet's case, that was a point guard who went on to a solid Division 1 career.
Perhaps McCrave's size caused other coaches to back away. Murphy believes that she was perceived as too unselfish. Whatever the case, he saw a two-sport athlete with speed to burn and a competitive fire to match.
"The kid didn't ever look to shoot," Murphy said. "She wasn't asked to handle the ball much, either. She was considered primarily a defensive player. I kind of thought that someone with that much athleticism, to me, all she would need is a little direction and she would have the potential to become a terrific player."
McCrave didn't hesitate to hook up with Murphy, a Portland native who was a six-time Coach of the year in girls' basketball and soccer during his career in Massachusetts.
"I applied for early acceptance," she said. "I didn't really look anywhere else."
A unique talent
Bates is blessed with a wealth of talented underclassman. When this season- almost surely the best in Bates history- comes to an end, Murphy will need to replace only two of his top eight players. There's A.T. Taylor, who will probably finish an injury-riddled career with over 1,000 points.
And there's McCrave.
Murphy is already wishing himself luck.
"People say to me, Aw you've only got to replace CoCo.' I tell them you can't replace the irreplaceable," Murphy said. "Certain people have certain gifts, and CoCo is a gifted athlete."
In other words, he doesn't expect to find the next 5-foot-4 point guard who's capable of 10 points, 10 rebounds, and 10 assists and 10 steals per game right around the corner.
In every respect, Colleen McCrave was a steal.
# # #
---