February 22-24, 2002

Contact: Adam Levin
Phone: (207) 786-6411
NESCAC Women's Championships
at Williams College
Williamstown, Mass.
WILLIAMSON NAMED ALL-NESCAC SWIMMING
Bobcats finish fifth overall
WILLIAMSTOWN, Mass. — The Bates College women's swimming and diving team finished fifth at the 2002 NESCAC championships. The Bobcats scored 896 points, improving by more than 100 from a year ago. Coach Dana Mulholland's squad had 10 individual events in which they placed a swimmer or diver into the championships finals, up from seven in 2001.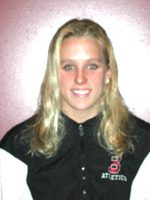 The Bobcats had one All-NESCAC performer, as first-year Vanessa Williamson (Auburn, Maine) continued her outstanding season. Williamson improved her school record in the 200-yard butterfly with a time of 2:09.61, good for third place in the conference. Williamson qualified for one other championship final, placing sixth in the 400-yard individual medley. She was 10th in the 200 IM.
Three other Bobcats made multiple championship finals, with junior captain Megan Ferrari (Doylestown, Pa.) narrowly missing out on her third career All-NESCAC honor when she took fourth in the 200-breaststroke, the one event she also missed out on last year. Ferrari also took eighth in the 50 breast.
A pair of first-years were also multiple finalists, as diver Kara Seaton (Wayne, Pa.) placed sixth in the three-meter diving and seventh in the one-meter, while classmate Nicole Sparks (New Canaan, Conn.) placed seventh in the 100- and 200-yard freestyle events. First-year Jackie Donnelly (Haverhill, Mass.) placed fifth in the 1,000 free, while senior Liz Horan (Manchester, N.H.) placed eighth in the 50 fly in her final career meet.
Complete results available here.
 #   #   #  


 

---