March 1-3, 2002

Contact: Adam Levin
Phone: (207) 786-6411
NESCAC Men's Championships
at Wesleyan University
Middletown, Conn.
HASTINGS EARNS ALL-NESCAC HONORS
Bobcats set numerous school records, finish sixth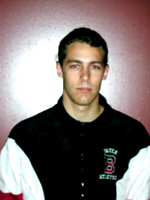 MIDDLETOWN, Conn. — Coach Dana Mulholland's men's swimming and diving finished the 2002 season in the same spot as 2001, sixth in the NESCAC at the conference championship meet. The Bobcats had one All-NESCAC honoree in senior diver Andrew Hastings (Weston, Mass.). Hastings finished third in the three-meter event with a finals score of 420.15, to earn all-conference recognition. He also took fifth in the one-meter event.
The Bobcats had 15 top-eight performances in all, compared with just eight a year earlier. Leading the way was junior distance freestyler David Bear (Winter Park, Fla.), who placed in three events, breaking three of his own school records in the process. Bear finished fifth in the 1,000- and 1,650-yard free (9:52.89 and 16:28.50) and sixth in the 500 (4:45.67).
Classmate Adam Bowden (Cumberland, Maine) was fifth in the 50 butterfly with a school-record time of 23.69 seconds, while placing sixth in the 100 fly.
First-year Craig Legault (Duxbury, Mass.) broke teammate Andrew O'Donnell's (Leonia, N.J.) record in the 100 backstroke (54.55 seconds), finishing seventh, while Legault and O'Donnell took sixth and seventh in the 50 back.
Bates took two of the top eight spots in one other event, the 100 individual medley, where first-year Sao Ohn Hseng (Rangoon, Burma) and senior Steve Imig (Denver, Colo.) placed sixth and seventh respectively. Hseng also placed seventh in the 50-yard breaststroke.
Senior Nick Holquist (Hampden, Conn.) joined Hastings as a top-eight performer in diving, taking seventh in the one-meter event and eighth in the three-meters
Bates also set one relay record, as the team of O'Donnell, Hseng, Bowdoin and Imig swam a time of 3:37.26 in the 400-yard medley relay.
Complete results available here.
 #   #   #  


 

---