March 14-16, 2002

Contact: Adam Levin
Phone: (207) 786-6411
NCAA Women's Championships
at Miami (Ohio) University
hosted by the College of Wooster
Oxford, Ohio
WILLIAMSON EARNS ALL-AMERICA HONORS
Rookie finishes seventh in nation in 200-fly
OXFORD, Ohio — Bates College rookie Vanessa Williamson of Auburn, Maine, became the fifth woman in Bobcat swimming and diving history to earn All-America honors when she finished seventh in the nation in 200-yard butterfly at the NCAA Division III championship at Miami (Ohio) University March 14-16.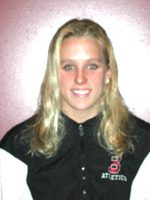 Williamson smashed her own school record in the event in the preliminaries with at time of 2:06.07, more than two seconds faster than her previous best performance. In fifth place after the trials, Williamson recorded a time of 2:07.16 in the championship race.
With the win, Williamson became Bates' first woman to win All-America honors since 1998, when Denby Johnson '98 earned the honor in the 200-freestyle. She is only the second rookie woman swimmer to finish in the top 16 at the NCAAs, Joining Melinda Wheeler '88.
Williamson also finished 24th in the nation in the 400-yard individual medley and 33rd in the 200 IM.
Williamson scored 12 team points for Bates at the championships, placing the Bobcats 40th out of 54 teams that scored points. Bates was eighth among teams from New England. Kenyon College won its 19th team championship.
Full results from the NCAA Division III women's swimming and diving championships, including team scores, are available via the Web at the following URL: http://www.wooster.edu/athletics/swim/ncaawomen/.
For more information on swimming and diving at Bates, please visit our Web page at http://abacus.bates.edu/sports/swimming.html.
 #   #   #  


 

---