The Week That Was in Bates Sports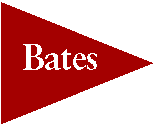 November 13-19, 1995
---
Bobcat Cross Country Closes Out Fall Season at Nationals; Court Named New England Coach of the Year
Bates cross country sent eight runners to the NCAA Championship Meet held at the Unviersity of Wisconsin-Lacrosse on Saturday. That included the women's team, the first ever Bobcat cross country team to qualify for Nationals. The squad, led once again by first-year runner Adelia Myrick of Kodiak, Alaska, finished 18th of the 21 team competing. Myrick finished 73rd overall with a time of 18:55.

ATHLETE               TIME    PLACE  TEAM PLACE
Adelia Myrick            18:55      73       46
Abigail Phelps           19:15     110       73
Melissa Leier            19:17     116       79
Thania Benios            19:30     139       99
Kirsten Achenbach        19:37     148      111
Sara Patterson           19:41     154      117
Megan Lane               20:07     164      127


The men sent one competitor to Nationals as well. Sophomore Justin Freeman was 81st out of 184 runners on the men's side.

In leading a team comprised of just two seniors, four sophomores and one first-year student to third place in the New England region and leading the team to Nationals for the first time, Bobcat head coach Carolyn Court was named Division III New England Coach of the Year by her peers.
---
Men's Basketball Kicks Off Season at Cardinal Classic
The men's basketball team started their season at the Cardinal Classic, a pre-Thanksgiving tournament hosted by Plattsburgh State. The Bobcats finished second in the tourney.

On Friday night, they faced SUNY-Potsdam and won handily, 81-63. Junior forward Mike Marsh was the team's top scorer with 16 points on 7-9 shooting. Two other Bobcats, junior forward R.J. Jenkins and senior guard Adam Piandes each chipped in 15. Piandes also had 12 assists to go with his 15 points, while junior center Jesse Strandberg grabbed 8 rebounds. The 'Cats led 35-20 at the half and cruised from there.

In the championship game, Bates faced off with host Plattsburgh State, a team which made it to the Division III Sweet 16 last year. The Cardinals were too tough on their home floor, knocking off the Bobcats, 85-69. Marsh once again was the team's scoring leader with 21, while Piandes had 14 and Strandberg had 11. The difference for the Bobcats in the two games was shooting: in the first game they shot 55% from the field; in the second, just 39%. Junior guard Matt Garvey was particularly cold, hitting on just 3 of 17, including 2 of 14 from 3-point range.

For their efforts, Piandes and Marsh were both named to the All-Tournament team. The team's record now stands at 1-1.
Up Next:
11/28 Bowdoin
---
Women's Basketball Splits at UMaine-Farmington Tourney
The Women's Hoops team finished third at the UMaine-Farmington Tournament held on Friday and Saturday, falling to the hosts in the opening round, but rallying to take the consolation game.

The Bobcats fell to UMF, 77-65, in game one, due in large part to a size disadvantage. The Bobcats managed just 14 rebounds in the entire game. Still, they were able to get some good scoring, as junior center Sarah Bonkovsky scored 20, first-year forward A.T. Taylor had 17 and senior captain Dianna Devlin netted 14 points in the losing effort. In a fine defensive effort, first-year guard Colleen McCrave had 7 steals in the game.

Coach Jim Murphy's charges came out the next day and took it to Westbrook College, 85-52. They were led by Devlin, who set a Bates women's record by dishing out 15 assists, as four of Bates five starters scored in double figures. Taylor led the way with 21, while classmate McCrave was right behind with 18. McCrave also added another 5 steals to her total.

Up Next:
11/26 University of the South

11/28 Bowdoin
---
Men's and Women's Swimming and Diving Sweep Clark
Swimming and Diving opened the season with a sweep of Clark University on Sunday. The women were victorious 152-91, while the men won 137-96.

Multiple winners for the women included sophomore Denby Johnson in the 200M Individual Medley (2:21.85) and 100M Backstroke (1:04.67) and senior Melissa Sander in the 1000M Freestyle (11:12.47) and 100M Butterfly (1:02.03). Both were also part of the winning 4x100 Medley Relay (4:20.13)

The men were led by first-year student Damon Bowe's wins in the 200M Individual Medley (2:08.39) and 100M Freestyle (0:52.06) and first-year diver Dave Burke taking both diving events, scoring 188.30 in the 3-meter and 210.75 in the 1-meter.

Up Next:
12/2 Wesleyan
---
Men's Squash Heads to Williams for a Weekend
The Bates Men's Squash team participated in the Williams Invitational over the weekend and posted a 3-2 record. They trounced Ohio Wesleyan, 9-0, and topped both Hamilton and Fordham by a score of 8-1. The Bobcats dropped close matches to Columbia, 3-6, and Vassar, 4-5. Senior Marc Zuccaro and sophomore Sandy Weymouth had a fine days at number three and number nine, respectively, each winning all five matches they played.
Up Next:
11/27 Connecticut College
---
Depth Pays Off For Women's Squash Against Middlebury
The Bates Women's Squash team held off Middlebury, 5-4, on Friday afternoon. They were able to escape with the win despite dropping the top four matches. Autumn Shurin, Sarah Merriam, Lauren Cardonsky, Jen Gollan and Kiersten Scarpatti, playing the five through nine spots against the Panthers, lost but one game amongst them. Shurin played an exceptionally strong game, winning 9-2, 9-0, 9-0. The Bobcats start the season 1-0.
Up Next:
12/1-2 at Wesleyan


---


for information about sports at Bates, send email to Adam Levin