May 7, 2002

Contact: Adam Levin
Phone: (207) 786-6411
FOR IMMEDIATE RELEASE
SMITH, COULSON NAMED REGIONAL ALL-AMERICANS
LEWISTON, Maine —Bates College sophomore midfielder Carrie Smith of Chevy Chase, Md., and senior Liz Coulson of Devon, Pa., have been named Regional All-Americans by the Intercollegiate Women's Lacrosse Coaches Association.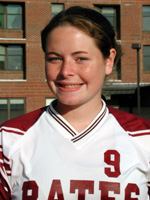 Smith, who was also named to the All-New England Small College Athletic Conference (NESCAC) team, was selected to the first team All-New England Region. She was the Bobcats' top scorer this season, netting 26 goals and dishing 25 assists for 51 points, ninth-best in the NESCAC. She was the Bobcats' top scorer in eight of 14 games this season. Smith posted three consecutive eight-point games in a five-day span, recording six goals and two assists March 24 against Bridgewater State, four goals and four assists against Southern Maine March 26 and two goals and six assists against Babson March 28. Smith also led the team with 39 draw controls and 28 caused turnovers while finishing third on the squad with 21 ground balls.
Smith has started all 31 games in her Bates career, 54 goals and 33 assists for 87 points. She was named to the All-NESCAC team as a rookie, when she was third on the team in scoring and finished the season second in the nation in draw controls per game.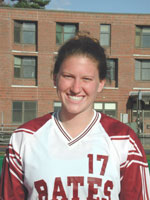 Coulson, a senior captain who was Bates' 2002 Senior Sportswoman, was named to the Regional All-America second team. She started nine games at attack for the Bobcats before her season was ended with an injury. On the season, she recorded 20 goals and 14 assists for 34 points. Additionally, she had 11 ground balls, 15 caused turnovers and 18 draw controls. Even after missing five games at the end of the season she still finished second on the team in assists and fifth in scoring. Coulson's best performance came in the March 28th victory over Conn. College when she scored six goals and had one assist. Against Babson on March 28th, in a 19-5 win, she had a perfect shooting percentage, scoring on all four of her attempts, while also adding two assists.
Coulson played three years at attack and one year in the goal. As a freshman she tallied 19 goals and five assists for 24 points. In her sophomore season, she had 18 goals and 11 assists for 29 points. As a junior she, despite being a leading attacker, moved to goalie, filling in for the injured starter. She finishes her career with 57 goals and 30 assists for 87 points.
Under fourth-year head coach Wynn Hohlt, the Bates College women's lacrosse team recorded a 7-7 record (3-6 NESCAC). The Bobcats qualified for the NESCAC tournament for the second year in a row and earned a spot in the Intercollegiate Women's Lacrosse Coaches' Association Top 20 poll for the second year in a row, reaching No. 19 in the nation. The Bobcats' season was highlighted by a 12-10 overtime win against Williams College March 30. The Ephs were ranked fourth in the nation at the time.
For more information on Women's lacrosse at Bates, please visit our Web page at http://abacus.bates.edu/sports/wlax.html.
# # #
---