March 7, 2002

Contact: Adam Levin
Phone: (207) 786-6411
FOR IMMEDIATE RELEASE
SAWLER, WANLESS TO COMPETE IN NCAA CHAMPIONSHIPS
LEWISTON, Maine — The Bates College men's and women's indoor track and field teams will each be sending two competitors to the NCAA Division III championships at Ohio Northern University in Ada, Ohio, March 8-9. The men will be represented by senior Jaime Sawler of Stratham, N.H., while the sophomore Liz Wanless of Belleville, Ill., will represent the women.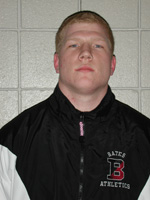 Sawler enters the NCAA championships ranked second in the nation in the 35-pound weight throw with a top distance of 61 feet, 5.75 inches. Sawler is undefeated against Division III opposition this season, having won titles at the state of Maine, New England Division III and ECAC Division III championships. His top throw of the season came at the ECAC meet March 2, when he set meet and facility records at Tufts University. His only loss of the season came at the Open New England championships, when he finished third behind competitors from Division I institutions University of Rhode Island and Northeaster University. This is Sawler's third trip to the NCAA championships. He is hoping to earn his second career All-America honor. He finished third in the hammer throw at the 2001 NCAA outdoor track championships.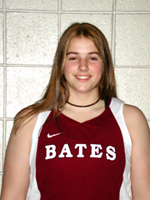 Wanless is making her first trip to the NCAA track championships in the shot put. She also participated in the 2000 Division III volleyball championships. Wanless is 10th in the nation in the shot put with a top performance of 44 feet, 1.5 inches. That performance marked the fourth time in her career that she had established a Bates record in the shot. Wanless won the state of Maine championship in the shot and earned All-ECAC and All-New England honors with third- and fourth-place finishes, respectively.

Complete results from the NCAA Division III Track and Field Championships are available courtesy Ohio Northern University
For more information on track and field at Bates, please visit our Web pages at http://abacus.bates.edu/sports/mtrack.html and http://abacus.bates.edu/sports/wtrack.html.
# # #
---