May 3, 2002

Contact: Adam Levin
Phone: (207) 786-6411
FOR IMMEDIATE RELEASE
LAMANNA RECEIVES NESCAC'S CHAFFEE AWARD
Bates men's tennis finishes fourth at conference championships
LEWISTON, Maine —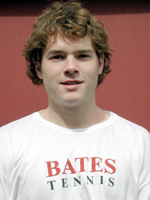 Bates College senior Ben Lamanna of Barrington, R.I., was presented with the Clarence Chaffee Award at the 2002 New England Small College Athletic Conference (NESCAC) men's tennis championships, held April 26-28 at Amherst College.
Lamanna was recognized with Chaffee Award, which is given annually to the player who best combined and displayed a high standard of tennis coupled with the highest levels of sportsmanship at the championships.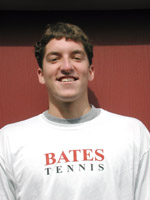 On the court at the NESCAC championships, the Bobcats sent three individual players to the final day of competition. Junior Brett Carty of Belle Meade, N.J., the third seed in the 'E' flight, defeated a foe from Tufts for the second time in a week in the quarters, 6-2, 6-2, and reached the finals with a second-set tiebreak victory over the second-seed from Middlebury, 6-2, 7-6. He fell in the finals to Williams' No. 3.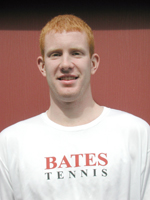 Classmate Dave Meyer of Weston, Conn., the sixth seed in the No. 4 singles flight, was the lowest singles seed at the championships to advance past the quarterfinals. Meyer won a preliminary rematch with his opponent from Colby, 6-1, 6-2. He then upset the third seed from Trinity, 6-4, 6-4, in the quarters before extending Bowdoin's No. 4 to three sets before falling.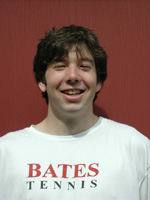 Rookie Sam Duvall of Mt. Washington, Ky., the fourth seed in the No. 3 flight defeated his quarterfinal opponent from Trinity, 6-4, 6-1, before losing to a foe from conference champ Williams in the semis.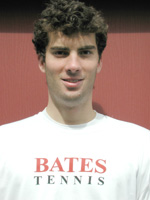 In the doubles draws, all three Bates teams won their preliminary round matches. The Bobcats' No. 3 team of Carty and sophomore Mike Hoverman of Warwick, N.Y., seeded eighth, shocked the top-seed from Bowdoin in the quarters, 6-2, 3-6, 6-4, before falling in the semis to Middlebury.


For complete results from the NESCAC men's tennis championships, please visit http://www.amherst.edu/sports/current/m-tennis/nescac02.html.
# # #
---